House Prices in Herault Q1 2020
The notaires have recently published a review of the housing market in the Hérault department of Occitanie.
According to the notaires, house prices in the department average €220,000, an increase of 2.2% in the year to the end of April. Over 5 years prices have risen by 7.2% and over 10 years by 15.5%.
As can be seen from the graphic below, prices in and around the dynamic conurbation of Montpellier have outstripped the general rise in the department, rising by 7.4% in the past year to reach an average of €309,300.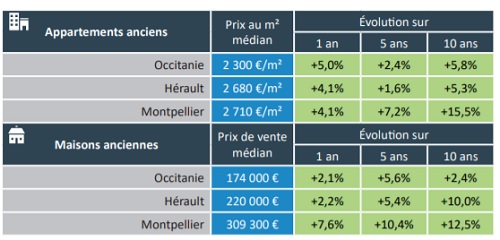 The graphic below shows prices and evolution of the market by size of property. As can be seen, average prices vary, from €136,300 for a property of 67m2 to €302,000 for a property measuring 145m2. In all these examples, there is a meagre amount land with the property.

Finally, the graphic below provides information on prices by geographic area of the department, ranging from an average of €160,000 around Beziers to €309,300 around Montpellier.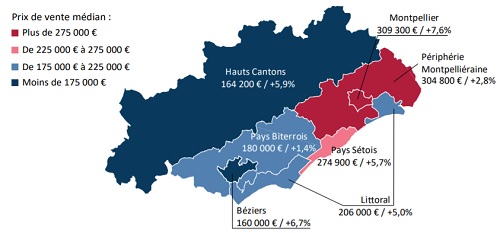 For the latest in-depth analysis, subscribe to our news service at France Insider.
France Insider is a subscription-based offer which has replaced our previous free Newsletter.