French Property Market in 2017
Thursday 08 February 2018
The French estate agents report a record year in 2017 for the housing market, but it was one substantially underpinned by the main cities.
Over the past few weeks there has been a spate of reports from the main French estate agents giving their perspective on the housing market last year.
Most notable have been those from Century 21, Laforêt, ORPI and Guy Hoquet, as well as commentary from the national professional association, FNAIM.

All weigh in heavily on the level of activity in the market, claiming it an 'année exceptionnelle' with record sales of around 950,000. The previous highest level was in 2011, when sales reached 850,000. According to FNAIM, on average sales have progressed by 42% over the past 3 years and by 22% over the past 10 years.
Nevertheless, there are significant geographic differences, with the increase in sales last year varying from as high as +23% in the department of Indre-et-Loire down to +8% in the Ardennes, as the following graphic from FNAIM shows.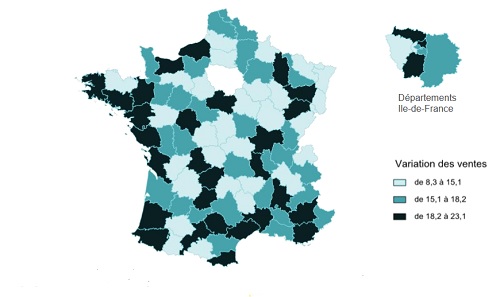 According to Meilleursagents.com, a real estate observatory, around one-third of sales were to first-time buyers, an indication that, with the exception of some areas, property ownership remains accessible to most households. Around 40% of sales were to existing owners, 16% were private rental investors, and 12% to buyers of second homes.
The agents ascribe the favourable market to low interest rates and the availability of interest-free loans to first-time buyers. Fabrice Abraham, Directeur Général at Guy Hoquet, commented that: "Le contexte favorable, et notamment les taux de crédit exceptionnellement bas, ont permis aux Français porteurs de projets immobiliers de les concrétiser rapidement et dans des conditions avantageuses."
Overall, interest rates in the year average 1.57%, and regulated interest free loans (prêt à taux zéro) were widely available for both new and older property.
However, there were signs of a slow down in the second half of the year. Bernard Cadeau, at ORPI commented that it was a year of two halves: "Ce bilan global en moyennes de l'année 2017 gomme les aspérités de deux semestres qui ont été très différents. Au cours de l'année, et plus fortement à partir du mois de septembre, une certaine perte d'élasticité s'est fait sentir sur le marché."

Similarly, the leading mortgage observatory, Crédit Logement, in their review of the final quarter of 2017, report a slow down in the demand for mortgages, stating: "Pour l'activité du marché des crédits, L'Observatoire constate une tendance à la baisse de la production de crédits. Le rythme d'évolution de l'activité, mesurée en décembre pour le 4ème trimestre 2017 est celui d'un marché en repli. L'atterrissage de la production mise en place, offres acceptées, sera donc marqué en 2018. "

Much of the slow-down is explained by the presidential elections, which took place in April/May last year, with many households simply deciding to proceed with their property ambitions ahead of potential tax increases following the election. Some agents point to an increase in prices that was simply no longer making it possible for some buyers to enter the market.

The agents have also been concerned about the impact of political changes for investors, who have been hit with increased regulatory measures, a change in the wealth tax to focus entirely on property, and increased social charges on rents. New rent controls were also introduced in Paris and Lille, although they subsequently fell foul of the courts, who ruled them illegal.
Those seeking to invest in new build rental properties are also facing a less generous zoning of tax relief areas. Many commentators argue that stricter control of such schemes is well overdue, due to the vacancy rate that has occurred in a large number of new developments, and the consequential financial difficulties faced by individual investors.
Prices
As to the movement in house prices it was (once again) a year in which prices in a number of the major cities forged ahead, whilst those in smaller towns and in rural areas either stagnated or declined.
Overall, on a national basis, average prices are reported to have increased by as much as 4.20% (FNAIM), whilst Century 21 offer the lowest figure of 1.20%. The notaires, who have yet to publish their annual review, state that in the year to 30th Sept 2017, prices rose on average by 2.8%.

However, there is little by way of a detailed geographic analysis beyond the major conurbations from any of the commentators.
Perhaps the best effort is made by Century 21 who provide figures on the average price per m2 of property (houses and apartments) in each region 2017, as well as the movement in prices in the year.

As can be seen, in three regions - Brittany, Hauts-de-France and Provence-Alpes-Côte d'Azur - prices actually fell, whilst they remained static in Occitanie.
Property Prices 2017

Region

Average Price m2



Variation 2016/17

AUVERGNE-RHONE-ALPES

€2,298

+2.2%

BRITTANY
€2,017
-3.0%
BOURGOGNE FRANCHE-COMTE
€1,465
+2.3%

CENTRE-VAL DE LOIRE
€1,599
+5.5%

GRAND EST
€1,536
+3.5%
HAUTS-DE-FRANCE
€1,440
-0.4%

ILE-DE-FRANCE (EXC PARIS)

€3,194

+1.4%

NOUVELLE-AQUITAINE
€2,072
+5.1%

OCCITANIE
€1,718
0.0%

NORMANDY
€1,729
+1.6%

PAYS DE LA LOIRE
€1,957

+2.0%

PROVENCE-ALPES-COTE D'AZUR
€3,425
-3.8%
Within the cities the picture is equally contrasting, although the stand-out headline is the surge in prices in Bordeaux, with reported average price increases ranging from 7.7% to 16% over the course of the year. In Paris prices rose on average by around 7.0%, to reach an average transaction value of over €450,000, around €200,000 more than a decade ago. It was a similar picture in Toulouse, Nantes, Nice and Lyon, although in Montpellier and Lille prices fell.
As to rural areas, there is very little information, although the notaires point to falling prices in the departments of Corrèze, Haut-Loire, Lozère, Mayenne and Haute-Vienne.

The disparities between the main urban centres and rural areas appears to be growing, as the graphic below shows.

Since 2007 prices in rural areas have, on average, fallen by 15%, whilst in smaller to medium sized towns they have remained stable. Only in the cities have prices risen over this period. Laforêt report that, despite the overall increase in sales last year, in many rural areas sales were weak, notably in the second half of the year. The stock of vacant homes for sale in many rural areas remains substantial.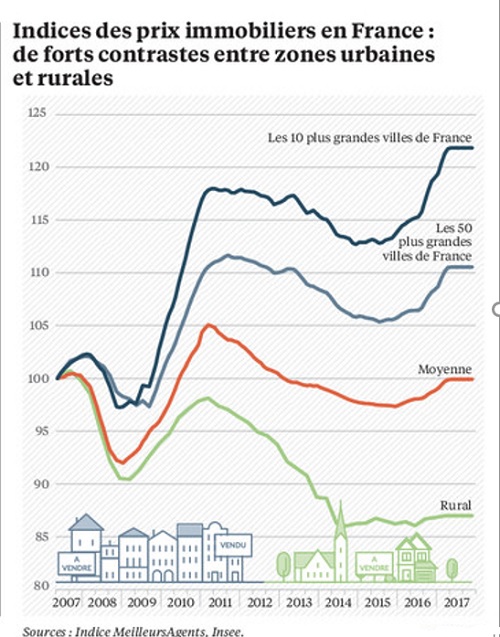 In 2015 we reported on a 10-year price analysis of rural properties carried out by the rural land agency SAFER, which showed a similar picture. Once again, however, there were winners and losers, as prices rose in some areas.

More recently, our article last year provided a further analysis of rural house prices in 2016 provided by SAFER.
For the latest in-depth analysis, subscribe to our news service at France Insider.
France Insider is a subscription-based offer which has replaced our previous free Newsletter.