Atlantic Coast House Prices 2018
A new study by the notaires reviews the state of the housing market along the length of the French Atlantic coast.
The coastline covered in the study runs from the department of Calvados in Normandy, to the Pyrenees Altlantiques in the Nouvelle Aquitaine region, on the border with Spain.

The study examined over 33,000 house sales last year in 12 departments. Sales remained stable over 2017, but a substantial increase on the nadir of 23,000 sales in 2014.

The average price for houses along the coast is €190,000, a rise of +5.6% in the year, but stable over 10 years.
However, the market is a very varied one, with significant differences in prices and activity levels.

The cheapest coastline for houses is in Manche (Brittany), at an average of €137,000, with the most expensive in the Pryenees Atlantiques at €421,800, as can can be seen from the table below.

Last year, prices in all departments increased overall, with the exception of Manche, where there was no change. The number in the department column indicates the administrative number of the department.

House Prices 2018

Department




Average Price



Variation 2017/18

CALVADOS (14)

€192,600

+1.7%

MANCHE (50)

€137,000
0.0%
ILLE-ET-VILAINE (35)

€232,500
+13.4%

COTES-D'ARMOR (22)

€165,000
+3.1%

FINISTERE (26)

€140,000
+3.7%
MORIBHAN (56)

€240,000
+8.6%

LOIRE ATLANTIQUE (44)

€230,000

+2.2%

VENDEE (85)

€180,000
+9.1%

CHARENTE-MARITIME (17)

€210,300
+5.2%

GIRONDE (33)

€250,000
+8.9%

LANDES (40)

€250,000

+8.7%

PYRENEES ATLANTIQUES (64)

€421,800
+7.1%
Drill down into the larger
communes
along the coast and the variation in the market becomes more pronounced, with average house prices ranging from nearly €800,000 in Lège-Cap-Ferret in the Gironde, to Cabourg in Calvados at €176,800.
Although broadly speaking there is a north-south spilt, the south does not have it all its own way, with three
communes
in the Morbihan amongst the top ten most expensive places, and several
communes
in the Landes somewhat down the list (Soulac-sur-Mer and Carcans).
There appear to have been some spectacular movements in prices last year, but a more reliable guide to the performance of the market are the two last columns in the table, showing the change over 5 and 10 years.
Highest increase over the past 10 years occurred in Saint-Jean-de-Luz (+67.7%), whilst in Locmariaquer (Moribihan) prices have fallen by nearly -40%.
Over the past 5 years the lovely beach and wildlife resort of Moliets-de-Maa (Landes) heads the pack (+88%), whilst chic Deauville has fallen by an equally stunning -43%. Interestingly, the price of apartments in Deauville over the same period has only fallen by 4%.

The following table relates to houses only.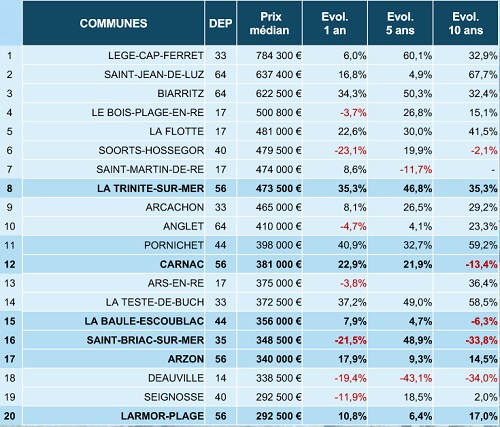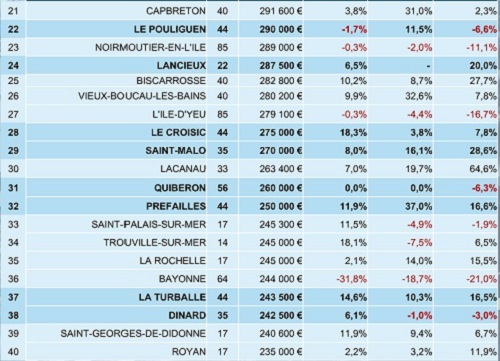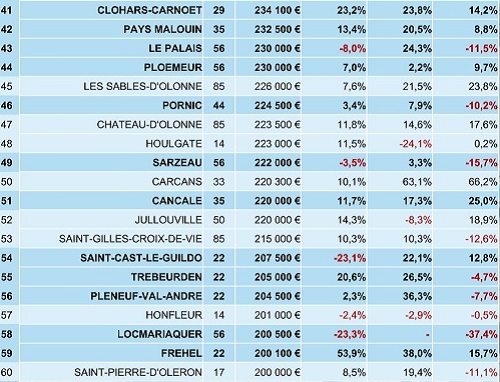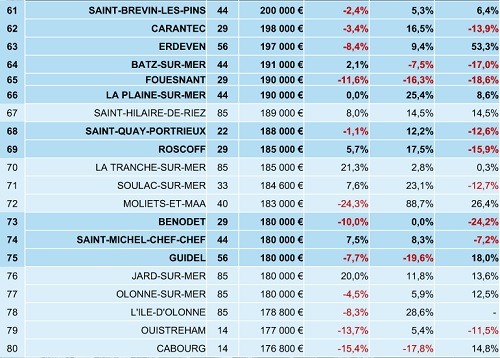 View a selection of properties for sale on Atlantic Coast