House Prices in Auvergne
The notaires in the Auvergne region have presented their review of house prices for 2018.
Although abolished as a distinct administrative area in 2016, the notaires in the region continue to hold on to their own former structure, reporting on the four departments of Allier, Puy-de-Dôme, Cantal and Haute-Loire.
The area is small and, after Limousin, the least densely populated area of France. One-quarter of the population live in the capital city Clermont Ferrand, famous for being the main manufacturing base of Michelin.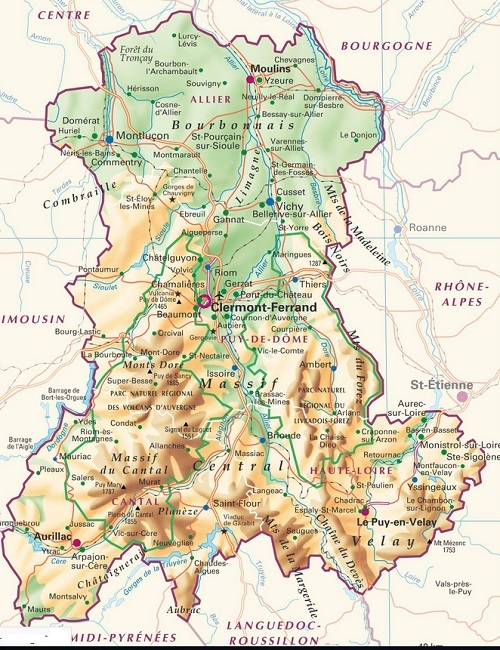 According to the notaires, of the 960,000 house and apartment sales that were concluded in France last year, there were 31,218 transactions registered in the Auvergne.
Over half of such sales occurred in the Puy-de-Dôme, 23% in Allier, 18% in Haute-Loire and 11% in Cantal.
Overall, house prices in the region rose by +1%, but with significant differences between and within departments. Prices rose in only one department last year, and over the past 5 years prices in the region have fallen.

The Puy-de-Dôme department in the centre of the region and hosting the capital Clermont Ferrand has the most active market. House prices in the department rose by an average of +2.3% last year, to reach an average price of €155,000. Over the past 5 years prices have remained broadly stable.

In Allier, to the north, house prices fell by -1.2% to average €95,000, in a range between €61,000 to €141,000, with cheaper prices generally found in the west of the department. Prices have fallen by -3.3% over the past 5 years.

In the Haute-Loire prices fell by -3.8% to average €115,400. Over the past 5 years average prices have fallen by nearly -10%. As elsewhere, prices in the department are very diverse. According to the notaires: "Whilst houses sell well to the east of the department, between Le Puy-en-Velay and Yssingeaux, the market is more complex around Brioude."

Finally, in Cantal, prices in this generally cool, remote and volcanic department fell last year by a huge -13.3% to €78,000, and over the past 5 years prices the department have fallen by -23%. The notaires state this is due to the fact that:
"In Cantal, there are many second homes, and with the increase in property taxes and a tougher tax system, property owners no longer see an interest.
" A quarter of the properties are second homes and around 12% of the total stock is empty.
For the latest in-depth analysis, subscribe to our news service at France Insider.
France Insider is a subscription-based offer which has replaced our previous free Newsletter.