With the slump in the property market in recent years, house prices in Brittany are much the same today as they were 10 years ago.
According to Loïc Lecuyer, President of the Conseil Régional des Notaires in Brittany house prices in region "ne bougent quasiment pas depuis 10 ans".
To be more precise, as the following table shows, whilst house prices in three departments in the region have barely moved, in two departments prices have done so in opposite directions by the same amount, thereby giving the matching equation.
Although the department of Loire-Atlantique is not in the administrative area of Brittany, it has strong historical ties, and the notaires in Brittany continue to include it in their market analyses.

Strip out the Loire-Atlantique from the figures, and it can be seen that house prices in the administrative region of Brittany are now lower than they were 10 years ago.
The figures are before any adjustment for inflation.

House Prices Brittany


Department

Average price

Ten Year Change


Côtes d'Armor

€120,000
-8.4%

Finistère

€140,000
+0.7%

Ille-et-Vilaine

€177,000
-1.7%

Morbihan

€162,500
+1.5%

Loire-Atlantique

€200,000
+8.1%
Source: Notaires de l'Ouest

The department with the cheapest average prices in the region is the Côtes d'Armor, which has also experienced a fall in prices of 8.4% over the past ten years. Over the past year house prices have broadly stabilised, falling by 0.9%.
Many properties in the department sell for well under €100,000, particularly in the south of the department, away from the coast, in the areas of Plouaret-Rosteren, Loudeac and Caules.

However, there are inexpensive areas in all parts of the region.

Thus, in Morbihan, where house prices average €162,500, in the area around Gourin to the north prices average around €75,000. Perhaps not surprising then that over the past year the notaires report that 12% of the buyers in the Gourin basin have been British nationality.

Other areas in the department offering good value are the Pontivy basin, where prices average €105,000, and around Ploermel where prices average €80,000.

Similarly, other under €100,000 sectors in the region can be found in the central basin in Finistère, where house prices average €74,000 and around Morlaix, where prices average €105,000.
Whilst the average price in Ille-et-Villaine is €177,000, houses can be purchased in the Coglais sector for prices averaging €95,000. Property around Redon are equally interesting at around €110,000.

Even in more up-market Loire-Atlantique prices around the Guemene-Penfao sector average a modest €108,000 and in nearby Chateaubriant a mere €110,000.

In fact, the notaires report that in all rural areas of the region prices are very negotiable.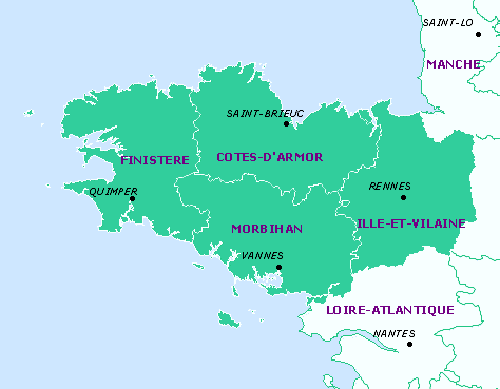 If you are looking to buy a property in this region of France then check on our listings for Brittany property.