Buying Property in the Charente
The Charente department of France continues to be a popular choice for British and many other buyers.
The coastline of the Nouvelle Aquitaine region, particularly around the beautiful port of La Rochelle, has one of the sunniest climates in France.
However, if you are willing to forsake some of the sunshine hours to go further inland into the Charente department you are rewarded by substantially lower property prices.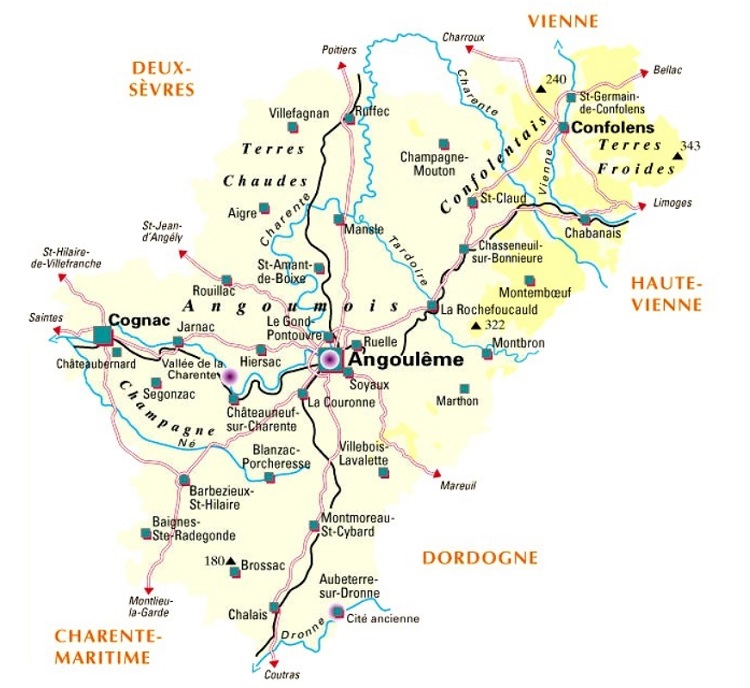 According to latest figures from the French notaires, the average price for older property in the Charente is €1,160m2, substantially lower than the average price of €2,020m2 in neighbouring Charente-Maritime.
Charles Millar, a British estate agent based centrally in the town of Jamac says that the Charente is not so developed as neighbouring Charente Maritime, so retains a great deal of charm and authenticity. It will appeal to those seeking la France profonde.
"Many of the villages retain a traditional character, with a strong architectural heritage that the local councils are keen to preserve", he says.
"However", says Charles, "that does not imply the area is remote or isolated, for there is good motorway access, airports at Poitiers, Limoges and La Rochelle with regular flights to the UK, and a TGV train service at Angoulême, which gives access to Bordeaux in less than an1 hour and Paris in 2 hours."
Charles also considers that one big factor for many buyers from the UK is that it is very accessible from the UK, with only a 7-hour drive from the Calais.
Although the number of British buyers to the area may have slowed in recent years, Charles says that despite Brexit there continues to be a strong demand. "The common denominator with all of them", say Charles, "is that they are seeking nice properties with grounds in good state of repair."
The area to the North of the department, in the Pays du Ruffécois, and the Pays de Charente Limousine to the East are particularly attractive places to live. That is equally the case just across the border into the department of Deux-Sevres and the charming Pays Mellois.
Property in these areas also happens to be very good value for money, with many properties available under €100,000
The graphic below shows a cartological display of property prices across the department, with cheapest properties in the north and the most expensive around Cognac and Angoulême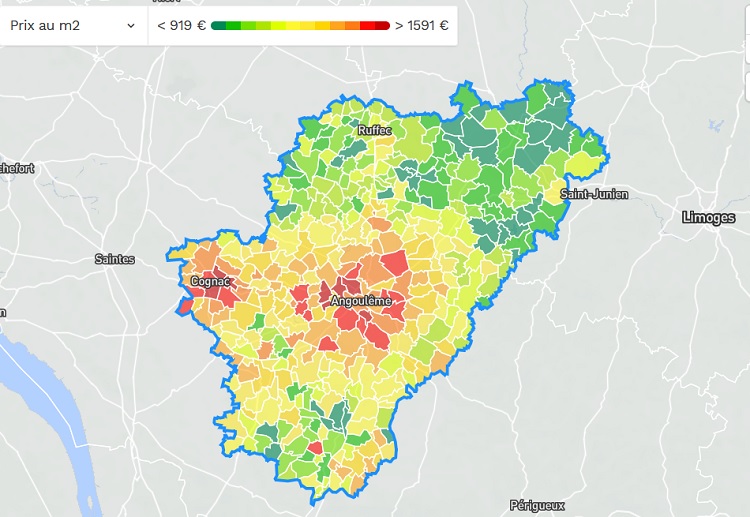 Charles says since Covid there has been strong interest in the department from Parisians, who appreciate the good transport links to Paris, and who seek a property with a good internet connection, so they can work from home for at least part of the week. As a result, prices have risen and continue to do so.
The table below gives the price per m2 of houses in a selection of communes in the department. As can be seen, prices vary by over 100% between the cheapest and most expensive areas.
The cheapest area in the department is around Confolens, near the border with the department of Vienne, and where many British expats have purchased.
House Prices Per m² 2020


Commune

Average Price

Cognac
€1,673
Angoulême
€1,608
Saint-Yrieix-sur-Charente
€1,607
Fléac
€1,583
Châteaubernard
€1,541
Magnac-sur-Touvre
€1,540
Merpins
€1,518
Champniers
€1,514
L'Isle-d'Espagnac
€1,510
Roullet-Saint-Estèphe
€1,442
Gond-Pontouvre
€1,428
La Couronne
€1,423
Soyaux
€1,416
Nersac
€1,385
Ruelle-sur-Touvre
€1,377
Châteauneuf-sur-Charente
€1,360
Jarnac
€1,350
La Rochefoucauld
€1,297
Saint-Michel
€1,297
Charras
€1,280
Rouillac
€1,209
Confolens
€985
Esse
€891
Lessac
€861
Oradour-Fanais
€778
You can contact Charles and see properties he has to offer at Charente Immobilier.
For the latest in-depth analysis, and access to a Helpline, subscribe to our news service at France Insider.
France Insider is a subscription-based offer which has replaced our previous free Newsletter.