The notaires have recently published their figures for the movement in house prices for the first half of the year, for each department of France.

Last month, the notaires published their property market review for the first half year 2019, confirming the provisional information given earlier that sales topped 1 million in the year to July, an increase of 7% over 2018.
The notaires provide no geographic breakdown of sales, but the indications are from their report that the market is a dynamic one in most areas of the country.
However, as Credit Agricole point out in their own review, it is being largely driven by the major conurbations, stating: "Toutefois, ce boom immobilier n'est pas homogène. Il est très marqué dans les grandes villes, notamment Paris, Lyon, Nantes et Bordeaux, plus modéré dans les villes moyennes et zones rurales."
In a similar vein, economic consultants Xerfi state that the housing market in France is like leopard skin: "Une peau de léopard où les taches brunes représentent le plus souvent les grandes agglomérations."

Even within the larger cities there are signs that the market is overheating, with reports that in the third quarter of the year appartment prices in Bordeaux fell. There are similar anecdotal reports about Paris. In some larger towns, prices have fallen, notably in Clermond Ferrand, Metz, Lille, Angers and Perpignan.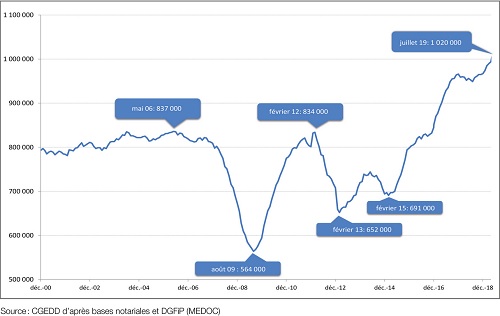 Overall on prices, the notaires report that house prices outside of the Ile-de-France rose by an average of 2.4% over a year. In the Ile-de-France apartment prices rose by an average of 4.9%.
Figures previously provided from the major estate agent chains gave increases of ranging from +0.4% to +3.5% over the same period.
As can be seen from the table below, these averages disguise huge disparities across the country, both up and down, although caution is needed in a too literal interpretation of the larger movements due to the limited number of transactions in some departments. That is why we also show the 5-year trend.

In one-third of the departments prices either fell or were stagnant in the year, reflecting the contrasting fortunes of different parts of the country.

Although the majority of the fall in prices occurred in the north and north east, there were also a large number of departments in the south and west where prices fell.

The table shows the percentage movement in prices for each department in the year to June 2019, the percentage price change for the period 2014-19, and the average house price at the end of June 2019, as well as the movement over the past 5 years.

There is however, an urban bias to the analysis, where most sales take place, so they do not necessarily reflect what is happening to rural properties.

The best current analysis available of the rural market was provided in our article Rural House Prices in France 2018.

House Prices 2019


Region/Dept



% Change 2019

Average % Change 2014-19

Average Price 2019


AUVERGNE-RHONE-ALPES



Ain
+0.3%
+12.7%

€195,500
Allier
+5.4%
+7.4%
€96,700
Ardèche
-0.7%

+4.1%
€151,000
Cantal
n/a

+1.5%
€101,500

Drôme
+5.1%
+8.0%
€196,500
Isère
+2.3%
+7.3%
€222,000
Haute-Loire
+10.0%
-3.5%
€110,000
Loire
+1.0%
+1.0%
€155,000

Puy-de-Dôme

-2.0%
+6.7%
€160,000
Rhône
+4.7%
+16.6%
€309,900

Haut

e-Savoie
+0.7%
+6.9%
€357,600

Savoie

-1.7%
+12.2%
€234,600

BRITTANY




Côte d'Amour

+6.6%
+8.3%
€130,000

Finistère

+5.0%
+11.0%
€147,000
IIe-et-Vilaine
+1.9%
+4.8%
€183,400

Morbihan



+3.1%
+8.8%
€172,900
BOURGOGNE FRANCHE-COMTE

Belfort

+2.8%
+7.6%
€155,000

Côte-d'Or

-3.7%
+2.6%
€159,000
Doubs

+3.6%
+7.1%
€172,500
Haute-

Saône

+6.2%
+12.3%
€112,300
Jura

-1.9%
+5.7%
€130,000


Nièvre

+3.5%
+6.7%
€80,000

Saône-et-Loire

-2.1%
+2.3%
€120,800

Yonne



+0.9%
+4.5%
€115,000
CENTRE-VAL DE LOIRE

Cher

0.0%
+6,4%
€100,000
Eure-et-Loir

+10.4%
+3.0%
€154,500
Indre

+5.4%
-3.7%
€89,600
Indre-et-Loire

+1.7%
+10.4%
€183,000

Loir-et-Cher



-0.5%
-4.1%
€115,100
Loiret

-3.2%
-0.3%
€152,000
GRAND EST

Ardennes

-15.7%
-13.3%
€91,000
Aube

-0.9%
-2.2%
€122,000
Haute-Marne

-6.3%
-17.0%
€75,000
Marne

-4.2%
-0.6%
€158,100
Meurthe-et-Moselle

+3.0%
+2.3%
€149,300
Meuse

-9.9%
-19.2%

€82,000
Moselle

+0.5%
+11.7%

€167,500
Bas-Rhin

+3.8%
+11.6%
€223,200
Haut-Rhin

+5.0%
+13.5%
€210,000
Vosges

-5.2%
-7.0%
€102,000
HAUTS DE FRANCE

Aisne
-3.6%
+4.4%
€106,000
Nord
+2.0%
+4.2%
€150,000
Oise
0.0%
+2.3%
€180,000
Pas-de-Calais
-0.5%
+4.9%
€134,300
Somme
0.0%
+4.2%
€125,000

ILE-DE-FRANCE*

Paris
+2.1%

+21.6%
€9,890m2
Seine-Saint-Denis
+5.4%
+10.5%
€3,530m2
Haute-de-Seine
+4.6%
+11.6%
€5,880m2
Val-et-Marne
+3.9%
+8.2%
€4,530m2
Val d'Oise
+0.9%
-1.0%
€2,680m2
Yvelines
+2.1%
+2.0%
€3,820m2
Essonne
+1.3%
-1.1%
€2,620m2
Seine-et-Marne
+1.4%

-0.4%
€2,620m2

NOUVELLE-AQUITAINE

Charente
+7.4%
+12.7%
€115,000
Charente-Maritime
+0.3%
+9.3%
€180,500
Corrèze
+14.9%
+0.9%
€116,000
Creuse
+22.6%

0.0%
€65,000
Deux-Sèvres
-4.5%
+5.0%
€105,000
Dordogne
+1.4%
0.0%
€117,000
Gironde
+3.2%
+21.5%
€252,700
Landes
+9.0%
+23.1%
€200,000
Lot-et-Garonne
+3.1%
+4.0%
€123,800

Pyrénées-Atlantiques

+2.8%
+0.2%
€215,500
Haute-Vienne
-2.7%
-6.7%
€110,000
Vienne

+4.5%
+7.1%
€128,600


OCCITANIE

Ariège
+1.5%
+10.0%

€104,500
Aude
-0.6%
-1.5%
€131,000
Aveyron
-12.5%

+1.3%
€96,300
Gard
-1.3%
+2.7%
€190,000
Gers
+12.2%

+6.7%
€140,000
Haute-Garonne
-0.5%
+1.7%
€232,800
Hautes-Pyrénées
-4.0%
-9.4%

€130,700
Hérault
+3.6%
+7.3%
€217,500

Lot

+7.8%
+2.5%
€124,000
Lozère
+12.5%

-14.3%
€90,000

Pyrénées-Orientales

-1.2%
+9.8%
€170,000
Tarn
+4.6%
-0.9%
€130,800
Tarn-et-Garonne
0.0%
+7.7%
€140,000

NORMANDY

Calvados

+4.8%
+11.4%
€178,200
Manche

+4.0%
+6.6%
€130,000
Orne

-5.9%
+2.2%
€95,000
Eure

+0.2%
+2.2%
€150,300
Seine-Maritime

+2.5%
+2.5%
€153,800

PAYS DE LA LOIRE

Loire-Atlantique

+1.8%
+14.7%
€218,000
Maine-et-Loire

+4.6%
+8.8%
€146,500
Mayenne

+2.0%
-4.7%
€102,000
Sarthe

-1.6%
+1.9%
€123,000

Vendée

+4.1%
+9.7%
€158,000
PROVENCE-ALPES-COTE D'AZUR

Alpes-de-Haute-Provence

+6.3%
+0.7%
€170,000
Alpes-Maritimes
+2.4%
-2.3%
€430,000
Bouches-du-Rhône

+4.4%
+12.3%
€314,400
Hautes-Alpes

-2.9%
+23.4%
€212,200


Var

-0.5%
+4.4%
€313,200
Vaucluse

+7.1%
+6.7%
€225,000
*Apartments for Ile-de-France
Source: Notaires de France