House Prices in Haute-Garonne
Despite its status as the economic powerhouse of the south-west, property in and around Toulouse is surprisingly affordable.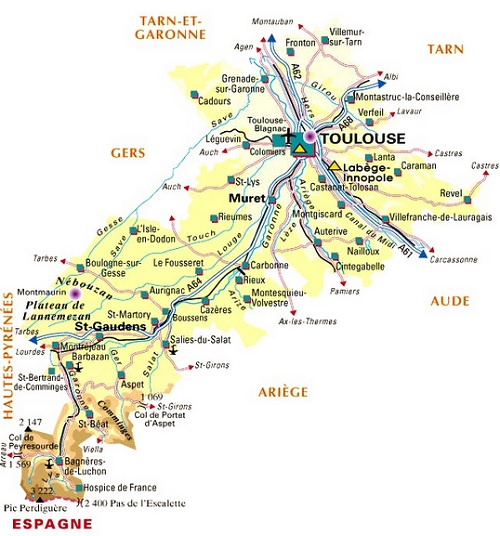 House Prices
According to the notaires, house prices in the department of Haute-Garonne average €236,000, an increase of +0.9% in 2018 and +5% over the past 5 years.
The average house price in the capital city Toulouse at the end of 2018 was €330,000, stable in the year, but an increase of around +13% over the past 5 years. The most expensive area is Balma, to the east of the city, where prices average over €400,000.

Elsewhere in the department, average prices fall away quite substantially, as can be seen below.

Cheapest prices are in Boulogne-sur-Gesse, a small commune on the border with the Gers. Similarly, prices fall towards the Pyrenees, as in Bagnères de Luchon and Saint Gaudens. Prices have fallen in both towns over the past 5 years.

| | |
| --- | --- |
| Town | Average Price |
| Toulouse | €330,000 |
| Toulouse Metropole | €280,000 |
| Léguevin | €254,000 |
| Muret | €230,000 |
| Boulogne-sur-Gesse | €91,000 |
| Saint Gaudens | €105,000 |
| Bagnères-de-Luchon | €114,000 |
| Carbonne | €159,000 |
| Auterive | €186,000 |
| Castanet Tolosan | €250,000 |
| Fronton | €235,000 |
There are few details in the review concerning the rural housing market, but as the notaires state: "La Haute-Garonne reste un marché dynamique et accessible, très contrasté entre Toulouse et ses zones rurales."

Apartment Prices - Toulouse
Apartment prices in the city average €2,610/m2, an increase of +0.7% in 2018.
Not surprisingly, prices in the city are significantly higher than any other part of the (former) Midi-Pyrénées, such as in Albi (€1,790/m2), or Rodez, Montauban, Auch, Cahors, Foix and Tarbes, where apartment prices are in the range €1,010/m2 to €1,390/m2.
Nevertheless, the city is cheaper than several comparable cities, such as Bordeaux (€4,230/m2), Lyon (€3,910/m2), Nice (€3,670/m2) and Lille (€3,100/m2). On a national basis, Toulouse ranks in 6th place in terms of average property prices.

Prices in the city naturally vary by location, with the district of Saint Georges the most expensive area (€4,649/m2), down to La Fourgette (€1,710/m2).
The graphic below shows the main districts of the city, followed by a table of the average price for an apartment in each sector, as well as the movement in the year.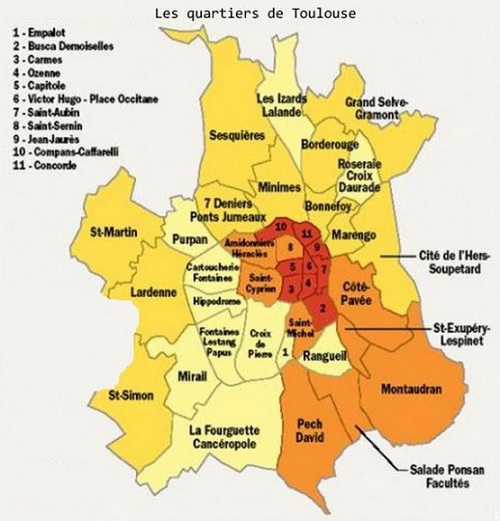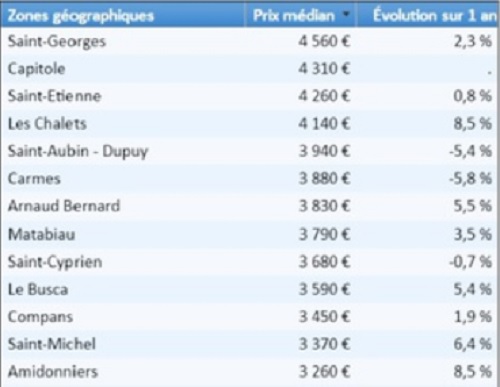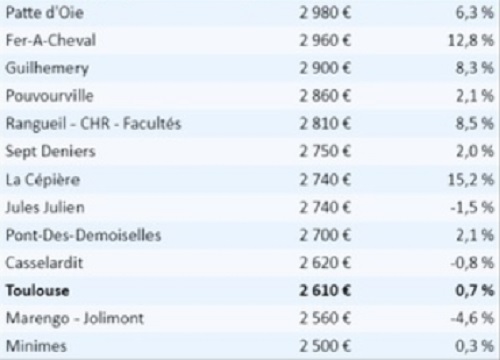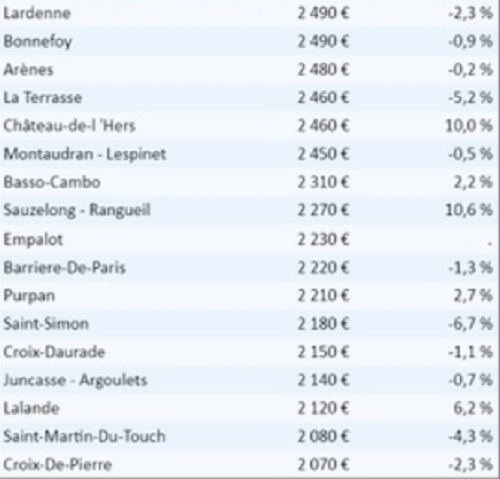 View a selection of properties for sale in the Haute Garonne
For the latest in-depth analysis, subscribe to our news service at France Insider.
France Insider is a subscription-based offer which has replaced our previous free Newsletter.