Property Prices Haute-Savoie
The mountains are omnipresent in Haute-Savoie, making it the premier skiing area in Europe, and one of the most popular areas in France for British holiday home buyers.
Sharing a substantial border with Switzerland and Italy, and its sibling department of Savoie due south, the department is at the centre of the Alpine skiing domain.
The mountain areas lie primarily to the east and south east, with the central Alpine zone dominated by the Mont-Blanc massif, the highest mountain range in Europe.
To the north are the plains bordering the shores of Lake Geneva, whilst to the south-west is the capital city of Annecy, which also has its own lake. Forest area covers 42% of the department, most of which is classified an area of outstanding natural beauty.
There are four main skiing domains - the Pays du Mont-Blanc (Chamonix, Mégève), the Portes du Soleil (Avoriaz, Abondance, Morzine), the Grand Massif (Flaine, Morillon, Les Carroz), and the Aravis (La Clusaz, Le Grand Bornand).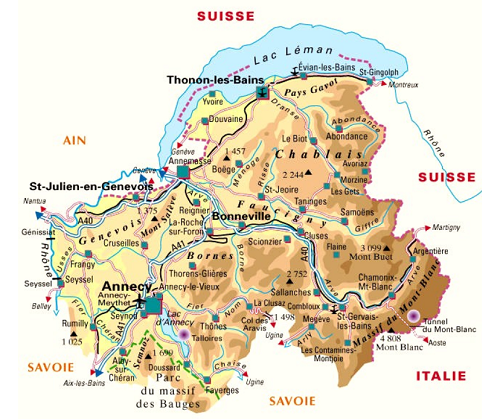 Source: Larrouse
Under the influence of economic growth of the Geneva metropolitan area the department is one of the most dynamic in France, with the population doubling over the past 40 years, to reach 806,000 inhabitants. Since 2006 it has risen by 14%, the largest increase in the whole of France.
There are around 70,000 foreign nationals who live in the department, of whom around 16,000 are Swiss and 4,000 who are British.
Most of the population growth has been in and around Annecy, and along the border with Switzerland, with many inhabitants who commute for work to the Geneva metropolitan in Switzerland. In contrast, in most mountain areas the population has either stagnated or declined.
The increase in population in the west and north has resulted in a substantial annual housing building programme of around 8,000 a year, most of which have been constructed along the border with Switzerland and the Annecy conurbation. There are now around 500,000 homes in the department, with the majority (300,000) being apartments.
The main housebuilding programme has also been supplemented by between 1,500 and 2,000 new second homes and holiday lets a year in the ski resorts, many of which have been built using the tax breaks available for individual investors, under such schemes as 'Besson', 'Perissol' and 'Robien'.
As a result, a quarter of the housing stock in the department comprises second homes, most of which are located in the ski areas to the east and south-east. In several resort communes over 80% of the properties are second homes, such as in Les Gets, Morzine, Arâches-la-Frasse, Morillon, and Châtel. In the Chamonix-Mont-Blanc commune over two-thirds of the 15,000 residential properties are second homes, around a quarter of which are owned by foreign nationals. There are also several hundred British nationals who live permanently in the area.
Property Prices
Overall, according to the Notaires de France, in the past 5 years house prices in the department have risen by an average of 2.9%, to reach €360,000, whilst the average price of apartments has increased by 2.6% to €3,350m².
However, there are very substantial internal variations, ranging from increases of around 25% in some areas, to double digit falls in some other areas. Average prices in the department are similarly contrasting, depending on location, with houses ranging from €247K to €742K, whilst for apartments average prices range from €2,260m² to €5,500m².

The graphic below divides the department into communauté de communes, inter-municipal councils that are gradually taking the place of the local commune as the local administrative centre within each department. These councils are in a state of transition, and many have merged or are in the process of merger, so the administrative areas are not up-to-date. The colour coding of the map should be ignored but the numbers correspond to municipalities listed in the table.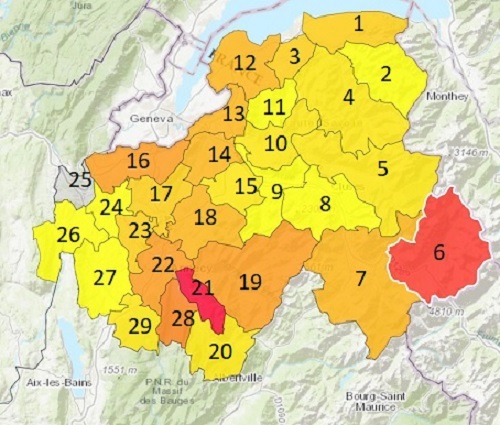 Source: Notaires de France
The table shows the average movement in house and apartment prices for each of these municipalities, for the 5-year period 2012-17, as well as the most currently published average prices for each area.

Property Prices Haute-Savoie


No




Commune



Houses
Average Change 2012/17

Houses
Average Price July 2017

Apartments
Average Change 2012/17

Apartments
Average Price July 2017

1
Pays d'Evian

+2.2%

€337,300

-2.8%

€2,850m²
2

Vallée d'Abondance

-12%
€266,500
+8.5%
€3,880m²
3

Collines du Léman

+24.7%
€350,500
n/a

€2,750m²
4

Haut-Chablais

+6.6%

€303,900
+12.9%

€4,700m²
5

Montagnes du Griffe

+1.8%
€279,900
+5.2%
€3,050m²
6

Vallée de Chamonix-Mont-Blanc

+2.4%
€641,500
+12.1%
€5,500m²
7

Pays du Mont-Blanc

-7.2%
€380,000
-6.8%
€3,240m²
8

Cluses-Arve et Montagnes

1.8%
€261,600
-3.8%
€2,290m²
9

Faucigny-Glières

-11.2%

€266,000
+1.0%
€2,330m²
10

Quatre Rivières

+2.7%
€292,700

+7.0%
€2,290m²
11

Vallée Verte

-6.2%
€267,800

n/a

n/a

12


Bas-Chablais

-6.5%

€388,000

-3.9%
€3,270m²
13

Annemasse-les Voirons

-2.5%

€393,700

-2.1%
€2,860m²
14

Arve et Salève

-7.0%

€372,000

-8.7%
€3,040m²
15

Pays Rochois

-0.8%

€317,600

-1.0%
€2,810m²
16

Genevois

-12.6%

€427,600
-3.5%
€3,530m²
17

Pays de Cruseilles

-15.7%

€354,000

+3.3%
€3,360m²
18

Pays de Fillière

+9.6%

€400,000
n/a

€3,330m²
19


Vallées de Thônes

+3.6%

€421,200

+1.7%
€4,220m²
20

Pays de Faverges

+24.1%

€280,200

+0.5%
€2,360m²
21

Tournette

+8.5%

€741,900

-0.9%
€4,310m²
22

Annecy

+3.8%

€451,500

+7.4%
€3,580m²
23

Fier et Usses

-4.8%

€352,000

+8.7%
€3,440m²
24

Val des Usses

-5.5%

€246,900

n/a

n/a

25

Semine

n/a

n/a

n/a

n/a

26

Pays de Seyssel

+24.1%

€252,000

n/a
n/a
27

Canton de Rumilly

+1.2%

€259,800

+8.8%
€2,260m²
28

Rive Gauche du Lac d'Annecy

+19.6%

€488,000

+20%
€3,880m²
29

Pays d'Alby

+21.1%

€319,000

+15.6%
€2,990m²
As usual, the table should only be used for general guidance. These municipal areas are large, some covering a quite disparate area, and prices will vary, depending on the size, type, location and condition of the property.
You can also expect to pay a premium in the best and highest ski resorts. Topping the pile of the resorts is chic Megève, located in the Pays de Mont Blanc, where apartment prices average over €7,000m², the most expensive area for ski property in the department.

Similarly, in the Aravis mountain range, in the municipality of Vallées de Thônes, lies the resort of La Clusaz, where prices for an apartment average between €6,000m² and €7,000m².
Expect to pay between €5,000m² and €6,000m² for an apartment in the resorts of Chamonix-Mont-Blanc, Les Gets, and Morzine, and between €4,000m² and €5,000m² in La Grand-Bornand, Comblouz, Les Houches, and Manigod.
Prices are more modest, between €3,000m² to €4,000m², in Châtel, Praz-sur-Arly, Morillon, Thônes, Araches-la-Frasse, La Chapelle-d'Abondance, Samoëns, La Balme-de-Sillingy, Douvaine, Les Contamines-Montjoie, and Saint-Gervais-les-Bains.
The cheapest locations, between €2,000m² and €3,000m², are in the communes of Vetraz-Monthoux, La Roche-sur-Foron, Saint-Jean-d'Alups, Sallanches, Passy, Taninges, Thollon-les-Memises, Bonneville, Rumilly, and Cluses.
For the latest in-depth analysis, subscribe to our news service at France Insider.
France Insider is a subscription-based offer which has replaced our previous free Newsletter.