French Housing Market First Half 2019
New figures show the housing market in France performed strongly in the first half of the year, against the backdrop of historically low interest rates.
As is customary at this time of year the five main French estate agent chains - ERA Immobilier, Century 21, ORPI, Laforêt and Guy Hoquet - have published reviews on the housing market for the first half year. There are also brief commentaries from the notaires and two on-line observatories.
In all cases it is rather slim pickings, but all show a market driven by low interest rates and the search for a respectable return on capital by investors.
Sales
The notaires (whose figures are only for the first quarter) estimate that sales for the year to March 2019 were 985,000, a record. They talk of 'un marché immobilier en confiance".
The graphic below shows annual sales since 2000.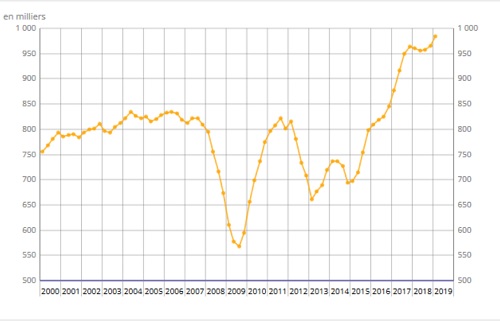 Source: CGEDD

All the agents report a strong increase in sales volume between the first half of 2018 and the first half of 2019 - +7% for Laforêt, +10.50% for Century 21, +11% for ERA Immobilier and up +14% for ORPI.
Nevertheless, as the notaires have pointed out in the past, if measured as a percentage of the housing stock, which has grown by around 1% a year since 2000, sales remain proportionally the same as they were 20 years ago.
According to Century 21, whilst two-thirds of the sales were for the purchase of a main home, sales for investment purposes were 26% of all transactions (34% in the Ile-de-France). Sales to investors rose by +32% over the year, having risen by 17% in the previous period.
The demand for property is generally ascribed to the continuing very low mortgage rates, with loans available from little more than 1%. As Century 21 state: "Thanks to the generally advantageous credit terms, the intentions to buy are particularly numerous, with households aware of the opportunity they have to buy at exceptional conditions that allow them to borrow at a rate below inflation."
According to the mortgage rate observatory Crédit Logement CSA, after having beaten the previous record, with an average rate of 1.29% in May, the average rate fell again to reach 1.25% in June.
Prices
With record sales, not surprisingly all the professionals report prices have increased this year, ranging from a modest +0.4% at Century 21 to +3.5% from LPI-Seloger, an on-line observatory.
The notaires are in a mid-point between these figures, stating that (to the period end of March 2019) house prices outside of the Ile-de-France increased on average by +2.5%, whilst apartments by +2.9%. Within the Ile-de-France, the movement was +2.4% for houses and +4.6% for apartments.
FNAIM, the national association of estate agents, state that the price surge is slowing down, with their own analysis showing an evolution of +2.3% in the year to June 2019, against +4.3% a year earlier.
The notaires also consider caution is needed in drawing too many conclusions for rural property, stating: "while price increases continue in urban areas and those of housing shortage, this is not the case in many rural areas."
That the increase in prices is primarily an urban phenomenon is evident from the analysis in house price movements for the main towns and cities provided by the notaires, although once again it is a mixed picture. In Metz prices rose by 17.8% in Metz whilst they fell to 9.3% in Le Havre and Limoges.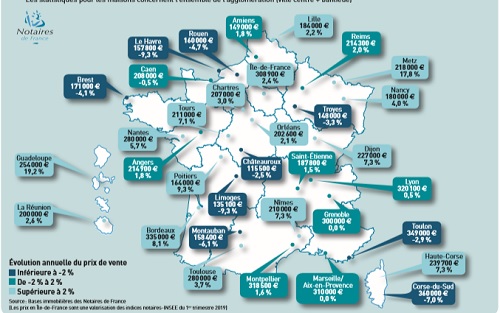 Century 21 are the only ones to provide a regional analysis, as shown in the graphic below.
Interestingly, in their view, in four regions prices fell in the first half of the year - Bourgogne-Franche-Comté, Brittany, Centre-Val-de-Loire and Normandy.
House Prices First Half 2019

Region

Average House Price



Variation 2018/19

AUVERGNE-RHONE-ALPES

€250K

+3.7%


BOURGOGNE-FRANCHE-COMTE

€143K
-2.9%
BRITTANY
€209K
-7.3%

CENTRE-VAL DE LOIRE
€169K
-1.3%

GRAND EST
€199K
+6.0%
HAUTS-DE-FRANCE
€145K
-1.3%

ILE-DE-FRANCE (EXC PARIS)

€337K

+0.6%

NOUVELLE-AQUITAINE
€237K
+3.7%

OCCITANIE
€186K
+0.2%

NORMANDY
€170K
-1.6%

PAYS DE LA LOIRE
€210K

+4.4%

PROVENCE-ALPES-COTE D'AZUR
€423K
+2.5%
A recent detailed review of the rural housing market was given by
SAFER,
the French rural agency, in their review of 2018.
For the latest in-depth analysis, subscribe to our news service at France Insider.
France Insider is a subscription-based offer which has replaced our previous free Newsletter.