House Prices in the Pyrénées Orientales 2017
House prices in the Pyrénées Orientales rose by an average of 3.3% last year, the first time for several years prices have not been in retreat.
With house sales up 13% over 2016 to 5,500, the level of activity last year was a record for the department, in line with the trend in activity throughout most of France.
According to the notaires, sales have now increased consecutively over the past four years, rising progressively each year from 3,900 in 2012 to the historic record last year.
The increases have been as great for apartments as for houses, with the former rising 14% (4,700 sales).
Inevitably, the level of activity was reflected in a bounce back in house prices, which rose on average by +3.3% across the department to reach an average price of €172,500.
Nevertheless, the movement in prices varied considerably across the department.
As can be seen from the following graphic, in areas close to the Mediterranean prices rose by between +3.0% to +4.1%, with average prices varying from €161K up to €194K.
By contrast, in the centre of the department (Conflent Vallespir), average prices fell by -3.2% to €118K. In the western sector, furthest from the coast (Cerdagne Capcir), prices remained stable (-0.1%), at an average price of €160K.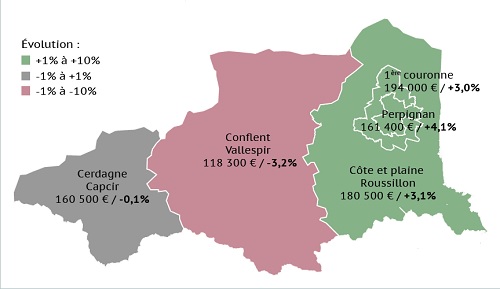 However, drill down to a municipal level and the contrasts between coastal and inland areas are less pronounced, for along the coast there were some areas where there were significant house price increases (Torreilles +13.1%, Sainte-Marie +11.5%, and Saleilles +9.1%), whilst some other coastal areas had the largest falls (Argelès-sur-Mer -19.9%, Claira -15.3%, Barcarès -14.5%, and Pia -14.4%).
The notaires consider that these differences are partly explained by a change in the structure of sales last year. In the municipality of Torreilles, for example, buyers moved towards larger, more expensive homes, which mechanically increased the average price. On the other hand, in Pia, smaller properties were popular, which reduced the average sales price.
The table below shows the average price last year for houses in a cross-section of communes. It shows that the most expensive area to buy was in the popular seaside resort of Canet-en-Roussillon (€229K). At the other end the cheapest area was Barcarès, where prices average €127K, and where around 90% of the housing stock are holiday homes.

PO House Prices 2017

Commune




Average Price



Variation 2016/17

Canet-en-Roussillon

€229K

+0.9%

Saleilles
€227K
+9.1%
Toulouges
€212K
+1.2%

Cabestany
€199K
-2.7%

Bompas
€190K
0.0%
Saint-Cyprien
€190K
-5.5%

Saint-Estève

€187K

+7.3%

Claira
€182K
-15.5%

Argelès-sur-Mer
€181K
-19.9%

Soler
€176K
+5.8%

Pia
€175K

-14.4%

Sainte-Marie
€175K
+11.5%
Saint-Laurent-de-la-Salanque

€170K

-3.7%

Torreilles

€164K
+13.1%
Perpignan

€161K

+4.1%

Bages

€160K
0.0%

Elne

€133K

-8.3%

Barcarès
€127K
-14.5%
Source: Notaires de France - BDD Perval
View a selection of properties for sale in the Pyrénées Orientales
For the latest in-depth analysis, subscribe to our news service at France Insider.
France Insider is a subscription-based offer which has replaced our previous free Newsletter.