House Prices in France Second Quarter 2016
Tuesday 04 October 2016
The notaires report that house prices outside of Paris fell by an average of 0.4% in the second quarter, although sales reached their highest level since 2012.

It is a strange brew in the housing market in France at the present time with house prices falling whilst sales are soaring.

As the graphic below shows, on an annual basis sales of existing properties (therefore excluding new build) have reached 830,000, in line with their peak total in 2012.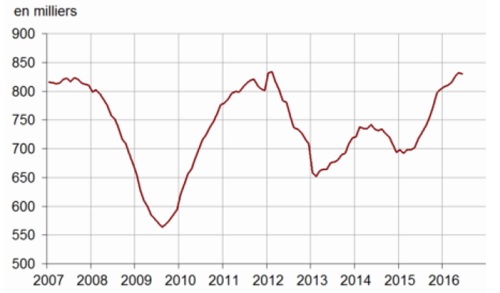 Most commentators attribute the bounce in activity to historically low mortgage interest rates, which have now been under 2% for the past year.

Combine the low rates with lower prices and property in France has once again become more affordable for many households.

However, with the fundamentals in the economy showing few signs of recovery, the surge in activity may be little more than a correction from three years of low sales.

It is also likely to mean that there will be no significant increase in prices in the near future.

To supplement the national analysis the notaires have also separately published second quarter house prices for each department of France, which are shown in the table below.

As usual, drill down and there is a perfusion of discordant figures, making it difficult to establish any clear trends, although it is significant that many departments are showing consecutive falls over Qtr1 and Qtr 2.

The size of the movements in some cases looks exceptionally large so needs to be treated with caution, as they are likely to be a statistical aberration that will moderate over a longer period.



In addition, as the analysis is drawn from transactions in the main urban areas of each department they do not reflect the movement in rural house prices, where the market in most areas is slower, with prices falling or stagnant in many areas.


The table shows the movement in house prices for the year ending 31st December 2015 and the average percentage change in each department for Qtr1/16 and Qtr2/16.




House Prices Qtr2 2016


Region/Dept



Average % Change 2015

Average % Change Q1 2016

Average % Change Q2 2016


AUVERGNE-RHONE-ALPES



Ain
+0.2%
+3.5%
+0.5%
Allier
-2.9%
-6.7%
+3.4%
Ardèche
+0.3%
-9.5%
+6.3%
Cantal
-0.5%
n/a
+7.0%
Drôme
+0.2%
-3.0%
-0.8%
Isère
+1.5%
+1.4%
0.0%
Haute-Loire
-0.5%
+1.5%
-1.8%
Loire
+0.6%
0.0%
+3.3%

Puy-de-Dôme

+1.9%
+1.5%
+5.0%
Rhône
+1.1%
-2.8%
+8.9%

Haut

e-Savoie
+0.3%
-1.4%
-0.1%

Savoie

+0.6%
+0.9%
+9.6%

BRITTANY




Côte d'Amour

+1.9%
-3.0%
+3.1%

Finistère

+1.7%

-3.6%
+3.0%
IIe-et-Vilaine
+2.4%

-1.2%
0.0%

Morbihan



-0.8%
-1.8%
-1.8%
BOURGOGNE FRANCHE-COMTE

Belfort

-2.1%
-7.3%
-3.7%

Côte-d'Or

+0.1%
+4.1%
-5.5%
Doubs

-1.4%
-5.9%
+2.9%
Haute-

Saône

-3.3%
-9.1%
n/a%
Jura

-2.4%
+8.3%
+3.8%

Nièvre

-0.4%
-6.7%
0.0%

Saône-et-Loire

+0.8%
-2.9%
-0.6%

Yonne



-2.1%
0.0%
-3.5%
CENTRE-VAL DE LOIRE

Cher

-2.0%
-1.0%
-0.2%
Eure-et-Loir

-2.8%
-4.9%
+5.8%
Indre

+6.7%
n/a

+4.7

Indre-et-Loire

+0.7%
-1.0%
+5.7%

Loir-et-Cher



-0.8%
+4.5%
-2.4%
Loiret

-1.2%
0.0%
+2.2%
GRAND EST

Ardennes

+1.4%
-4.2%
+2.3%
Aube

-5.0%
+5.7%
-3.8%
Haute-Marne

-2.9%
n/a
n/a
Marne

-2.9%
+9.7%
-8.2%
Meurthe-et-Moselle

-1.0%
-8.0%
+6.1%
Meuse

-3.3%
+2.0%
n/a

Moselle

+0.8%
-1.7%
+1.8%

Bas-Rhin

+2.2%

+2.8%
+2.0%
Haut-Rhin

+1.8%
+6.8%
-5.4%
Vosges

-3.4%
-9.1%
n/a
HAUTS DE FRANCE

Aisne
-1.4%
-6.4%
-2.9%
Nord
+1.0%
-3.4%
+1.3%
Oise
+1.6%
-6.4%
-1.7%
Pas-de-Calais
+1.6%
-3.7%
0.0%
Somme
-3.9%
-7.6%
+5.3%

ILE-DE-FRANCE*

Paris
-0.4%
+0,2%
+1.2%
Seine-Saint-Denise
-1.6%
-0.5%
+0.8%
Haute-de-Seine
-2.5%
+0.3%
+1.3%
Val-et-Marne
-1.3%
-0.2%
+1.2%
Val d'Oise
-1.4%
-0.4%
+0.3%
Yvelines
-3.8%
0.0%
+0.8%
Essonne
-1.1%
-1.0%
+0.1%
Seine-et-Marne
-1.4%
-1.5%

+0.1%

NOUVELLE-AQUITAINE

Charente
-0.3%
-4.3%
+9.0%
Charente-Maritime
-0.0%
-4.0%
+0.3%
Corrèze
-1.9%
+5.1%
-9.5%
Creuse
-0.8%
n/a

+4.3%
Deux-Sèvres
-1.1%
0.0%
+6.4%
Dordogne
+1.2%
n/a

-8.0%
Gironde
+2.9%
-2.3%
+8.1%
Landes
-2.5%
+4.3%
-3.8%
Lot-et-Garonne
+1.6%
-0.8%
-8.0%

Pyrénées-Atlantiques

-1.7%
+4.9%
-1.4%
Haute-Vienne
-1.9%
-3.8%
+4.3%
Vienne

-2.7%
-4.6%
+2.8%

OCCITANIE

Ariège
+4.1%
+7.5%
n/a

Aude
+1.4%
+5.5%
n/a

Aveyron
+1.6%
n/a

+5.1%
Gard
-0.4%
-1.0%
+2.1%
Gers
+1.5%
-2.1%
n/a

Haute-Garonne
+0.8%
+1.8%
-3.7%
Hautes-Pyrénées
+3.1%
-8.8%
+0.8

Hérault
+1.3%
-3.1%
+2.4%

Lot

+1.5%
-7.5%
n/a

Lozère
-0.7%
n/a

-10.0%

Pyrénées-Orientales

+0.9%
-4.9%
+6.3%
Tarn
+1.9%
n/a
+2.7%
Tarn-et-Garonne
+1.3%
0.0%
-6.0%

NORMANDY

Calvados

+0.6%
+3.2%
-1.0%
Manche

+0.2%
-0.2%
-1.4%
Orne

-1.4%
-8.2%
+8.1%
Eure

+0.3%
-1.4%
+2.8%
Seine-Maritime

+0.4%
0.0%
-0.7%

PAYS DE LA LOIRE

Loire-Atlantique

+2.3%
+1.0%
+1.0%
Maine-et-Loire

+2.6%
-10%
0.0%
Mayenne

+2.9%
+4.8%
0.0%
Sarthe

+1.3%
-2.1%
-1.7%

Vendée

-0.1%
+0.1%
0.0%
PROVENCE-ALPES-COTE D'AZUR

Alpes-de-Haute-Provence

+0.3%
n/a
+9.4%
Alpes-Maritimes
+1.7%
+0.5%
+0.1%
Bouches-du-Rhône

-1.4%
0.0%
+0.2%
Hautes-Alpes

+0.3%
n/a
+3.9%

Var

+1.1%
+1.6%
+0.5%
Vaucluse

-0.2%
-3.9%
-0.7%
*Apartments for Ile-de-France



Source: Notaires de France

This article was featured in our Newsletter dated 04/10/2016