Access to French Property Sale Prices
If you have ever wondered how much your neighbour paid for their property, now you might be able to satisfy your curiosity.
Last month, French land registry records were opened up to the public, granting free on-line access to the sale price of property.
With the creation of the Demande de valeur foncière, at the click of your mouse it is possible to obtain brief details of property sale transactions that have taken place between 2014 and 2018.
The transactions include all sales, for houses, apartments, land and other buildings.
The information provided includes the sale price, date of sale, size of property, number of bedrooms, land area and plot (cadastre) number. It does not give the name of the seller or the buyer.
The prices shown do not include stamp duty, notaire fees or estate agent fees.
Although there is no information prior to 2016, going forward the database will be updated twice a year in April and October. Sales prior to 2016 may also be available in due course.
To obtain access to the data you need to go to Demande de Valeur Foncière.
The page shows an interactive map of France. You can then either click on the relevant department for your search, or enter search criteria in the left-hand column of the page.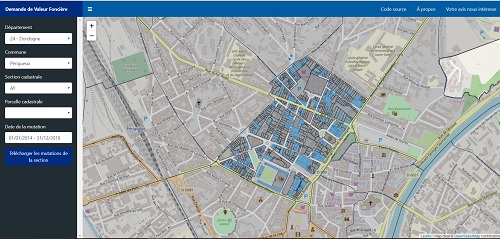 Using the interactive map you can scroll down to a property. If there has been a sale within the last 5 years it will be coloured blue on the plot(s), for each section of the register.
Where there are multiple plots in a sale, the price shown on each plot will be the sale price for the whole transaction, so some care is needed in tying the complete sale together, which is possible by using the date given for the transaction.
In addition, it is likely that some errors will occur on transfer of the information, so like all such systems, there is no guarantee of 100% accuracy.
The information will be of use to prospective buyers and sellers, particularly in urban areas, although as François Gagnon, Président of national estate agents ERA has stated: "Même si un particulier peut avoir accès aux résultats de son test sanguin, il aura toujours besoin d'un médecin pour les interpréter."
For the latest in-depth analysis, subscribe to our news service at France Insider.
France Insider is a subscription-based offer which has replaced our previous free Newsletter.