Non-Resident Foreign Buyers 2006-16
Over the past 10 years one third of non-resident foreign French property buyers have been British, but they are now spending less.
According to a recent study by the Notaires de France, British non-residents continue to be far and away the largest group of international property buyers in France, accounting last year for 33% of all such purchases.
The graphic below shows the average percentage share of purchases by foreign non-residents since 2006, from which it can be seen that British, Italian and Belgian nationals accounted for nearly 60% of all purchases.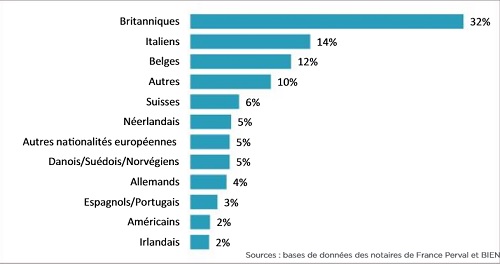 However, as can be seen from the graphic below, the British dominance is one that has wavered, from a high point of 42% in 2007 down to 21% in 2011.
Equally noteworthy has been the increase from 7% to 15% in the share of the market by Belgian nationals, and the fall from 22% to 7% in the percentage taken by Italian buyers.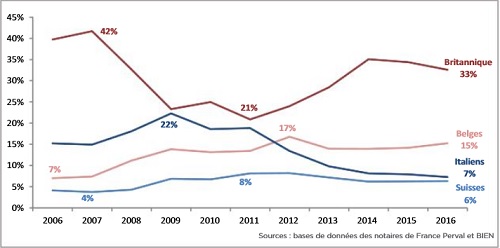 The notaires state that the British and Scandinavians tend to buy the more expensive properties, but the British are also buying more cheaply, with their percentage share of the lowest price quartile of the market increasing from 9% in 2006 to 16% in 2016. That may, in some measure, be explained by the increase in the popularity of cheaper areas of France for British buyers, such as the Limousin.
A report last year from BNP Paribas showed that the average spend by British buyers was €262K, but with substantial variations across the country, ranging from €797K in the Ile de France to €42K in the Auvergne region. In Poitou-Charentes it averaged €160K, whilst in the Limousin it was €86K and in Aquitaine €198K.
Most of the purchases by Italians, Belgians and Swiss are cross-border related, with the Belgians buying primarily in Northern France, the Italians in Alpes-Maritimes and the Swiss in Haute-Savoie. In contrast, British purchases are more widely scattered, albeit predominantly in the South West, as well as Haute-Savoie.

Total sales to foreign non-residents last year was around 17,000 properties, of which over 5,000 were to British nationals. The sales were for both permanent and second homes.

As a percentage of total sales, the department receiving most non-resident foreign buyers of all nationalities over the past 10 years has been Creuse (14%) in the Limousin, followed closely by Alpes-Maritimes (13%) and the Dordogne (13%). The following graphic shows the 10-year averages by department.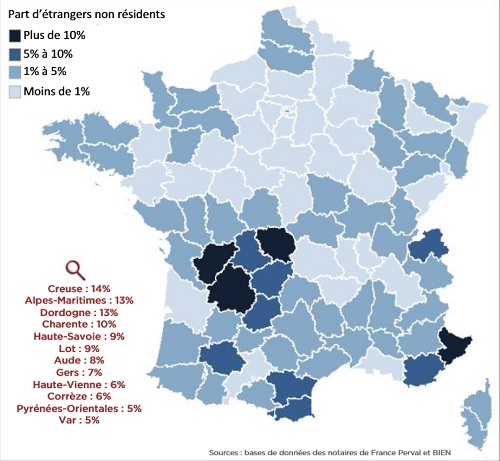 For the latest in-depth analysis, subscribe to our news service at France Insider.
France Insider is a subscription-based offer which has replaced our previous free Newsletter.