Substantial Population Growth Forecast for South of France
The population of France is forecast to grow by around 10% up to 2030 to reach 67 million, and those looking for long term investment opportunities should go South.
Eyebrows may be raised to see that the population of Languedoc-Roussillon is forecast to grow by over one third, whilst Midi-Pyrénées will grow by around one quarter.
Strong double digit growth is also expected in Provence-Alpes-Côte d'Azur, Rhône-Alpes, Pays de la Loire and Aquitaine.
By contrast, the French regions of Champagne-Ardenne, Auvergne, Burgundy and Lorraine will see a decline in their population.
Population Forecast - 2030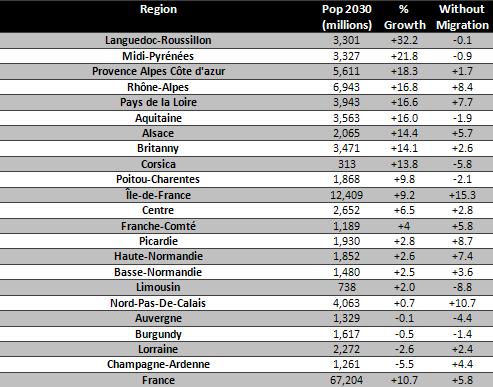 The massive growth in both Languedoc and the Midi-Pyrénées is due entirely to the effect of migration, without which both regions are forecast to have a decline in their population, with deaths exceeding the number of births.
The situation is at its worst in Limousin, for without migration, the population of the area is forecast to decline by over 8%. The region is also forecast to have the oldest population in the country in 2030 with an average age of 47 years, against a national average of 43 years.