The Price of Building Land in France
The price of building land in France averaged €67m² in 2006, but varied from €17m² in Limousin to €245m² in the Paris region, according to a recent report published by the French Government.
The study examined 178,000 individual dwelling planning permissions granted in 2006 in France, to establish the price at which the land was sold, and the cost of construction of the dwelling.
Overall, the surface area of each plot measured 1440m², with an average sale value of €67m². The houses constructed on the land had an average construction cost of €132,750, for an average surface area of 137m².

Accordingly, the average total investment cost for the land and dwelling was €192,724, in which the land accounted for around 30% of that total cost.

Nevertheless, these averages hide very significant regional differences, as the table below demonstrates.
Building Plot Sales - 2006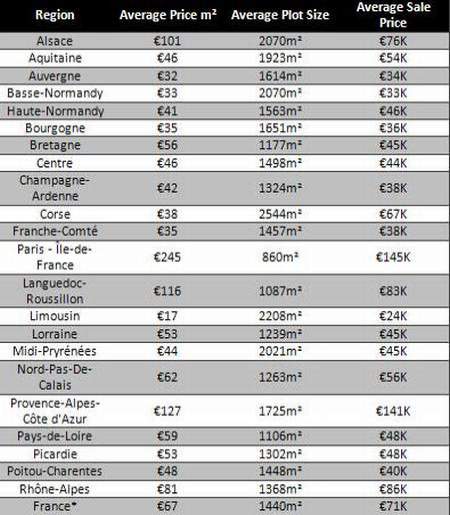 *Includes Guadalupe, French Guiana and Réunion
As might be expected, within regions, the price of land in urban areas was considerably higher than that in rural areas. Thus, within areas with a population of at least 200,000 people the average price of land was €133 per m², whilst in rural areas it was €32 per m2. Paris stood out on its own with an average price of €346 per m².
The study also examined construction costs in each region. On average, construction costs were €975m², a figure that was fairly uniform across the whole of the country.
The most expensive region for construction costs was Corsica (€1189m²), closely followed by Provence-Alpes-Cote d'Azur (€1108m²), the Ile-de-France (€1092m²) and Alsace (€1049m²).

The cheapest building costs could be found in Centre (€878m²), Upper Normandy (€914m²) and Picardy (€916m²).

The study showed that if you were able and prepared to self-build then the construction costs were €720m², whilst the use of an architect sent these costs up to €1115m². If the builder was in control of the whole process, then the average cost of construction was €957m².

As always with these studies we emphasis the need to be careful with 'average' figures. They can only give you an approximation of prices and costs. Neither can the figures say anything about the quality of the final product!
For the latest in-depth analysis of French property ownership and living in France, subscribe to our sister-site France Insider.
France Insider is a subscription-based offer which has replaced our previous free Newsletter.