Property Prices in Paris for 2011
Tuesday 06 March 2012
Property prices in Paris rose by an average of nearly 15% in 2011, according to the Chambre de Notaires de Paris.
Double digit prices increases occurred in all the arrondissements of the capital, with the 4eme having the largest increase (20%) in the year.
Prices in the 3eme also rose by a similar amount (19,2%), and in the 9eme (18,8%), while lowest increases occurred the 1eme (10,4%), the 10eme (11,6%) and the 5eme (12,2%).
However, these large increases over the whole year disguised a slowing of the market in the last quarter, when prices actually fell in some districts.
The average price for an appartment and the end of 2011 in Paris was €8,390 m². The lowest average price of €6,580 m² could be found in the outer 19eme, and the highest at €13,100m² in the 6eme. Within districts there remains considerable variation in prices, so the average figures should be read with some caution.
The following graphic from the Chambre de Notaires de Paris shows the average increase and the average price for an appartment for each district in 2011.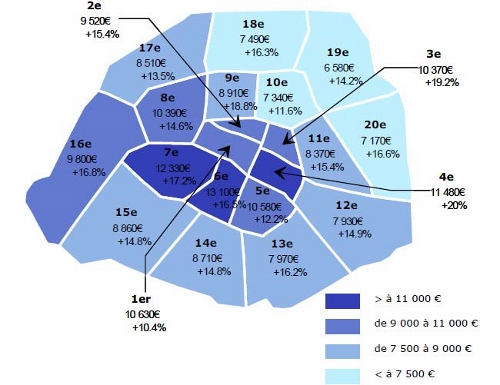 This article was featured in our Newsletter dated 06/03/2012