Bordeaux Outpaces the Market
Thursday 06 September 2018
A recent study by the Notaries de France traced the evolution in residential property prices between 1997 and 2016 in 17 provincial metropolitan areas.
Those towns and cities in the study were: Bordeaux, Brest, Dijon, Grenoble, Lille, Lyon, Montpellier, Nantes, Nancy, Nice, Orléans, Rennes, Rouen, Strasbourg, Toulouse, Tours, and the metropolitan area of Aix-Marseille-Provence.

Over the period five major phases in the movement of prices can be observed:
1997-2005: high price increases averaging +18% for apartments and +14% for houses;
2006-2007: a deceleration phase;
2008-2009: subprime mortgage crisis, with prices down around -8%;
2010-2011: market upturn with price increases of approximately +5%;
2012-2015: slight price decrease;
2015-2016: prices stable for both apartments and houses.
These five phases are shown on the graphic below.

However, whilst the notaires generalise five major phases,
the extent of changes was not uniform across the country.
The lowest prices increase

of between 80% and 100% occurred in Orleans, Dijon, Brest and Nancy,
whilst in Bordeaux apartment prices have risen by around 250%. House price increases in Bordeaux have also been higher than in any other city.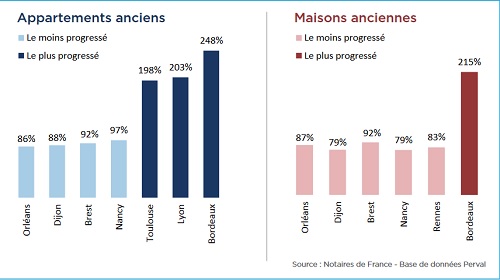 Although the report did not include figures for 2017, prices in Bordeaux last year rose by a spectacular 16%, outpacing every other city by a significant margin. The opening of the high-speed TGV train link to Paris (2 hours journey time) last year will have unquestionably contributed to this growth.
As a result, the league table of cities in terms of their property price levels has changed substantially over the period of the study.
Whilst in 1997 the Alsatian capital of Strasbourg topped the table as the city with the highest apartment prices, by 2016 it had slipped down to 7th position.

Since 2005, the sun-drenched city of Nice has had the highest prices outside of Paris, a position it has held for house prices throughout the whole period of the study.
The city of Bordeaux moved up the table from 14th place for apartment prices in 1997 to second position in 2016. It is also a similar picture for house prices in Bordeaux, which were placed 12th in 1997, but rose to 3rd position by 2016.
Other good performers have been Lyon, Nantes and Montpellier.

Significant movements in the other direction have been Rennes, where until the mid-2000s apartment prices shared the podium with Nice, but fell to 11th position by 2009, and Dijon, which has fallen down the table for both house and apartment prices.
The graphic below shows the league table over the period for apartments.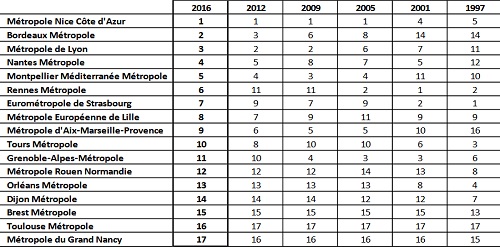 The graphic is reprised below for houses.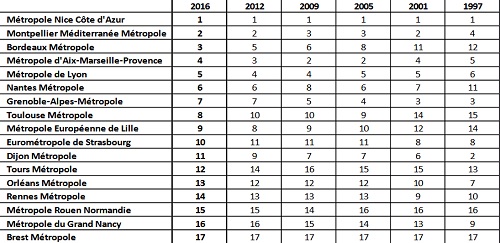 For the latest in-depth analysis, subscribe to our news service at France Insider.
France Insider is a subscription-based offer which has replaced our previous free Newsletter.