Rent Levels in France 2018
Rrent levels in France averaged €12.80m2 last year, with smaller properties attracting the highest yields.
Each year the housing rental observatory 'Clameur' (Connaître les Loyers et Analyser les Marchés sur les Espaces Urbains et Ruraux), based at the University of Paris publishes a review of the housing rental market in France.
The review covers over 90% of the private lettings for unfurnished properties let on an annual basis, a market of nearly 6 million properties, accounting for around 20% of the housing stock. Holiday and furnished lettings are not part of the survey.
In their most recent review Clameur report that rents increase last year by an average 1.4%, having fallen in 2017 by of 0.1%.

Although rental values vary substantially across the country, as a general rule, smaller properties obtain a higher rental value per m2. Thus, on a national basis a studio averaged €17.30m2, a three-roomed property €10.70m2, whilst a property of at least 5 rooms (pièces) averaged €9.20m2. The definition of a 'room' in the study excludes both the bathroom and kitchen.
Over the past 10 years, in real terms (inflation adjusted) rent levels have fallen, during a period when the tax burden has increased, housing benefits to tenants have been toughened, and rent controls have been imposed.

The table below shows the average rents for properties in a cross-section of towns and cities of the country.

Rent levels within each town will vary by geographic area and by size and condition of property, so the information should only be used as a general guide.

Rents €/

m2 2018
Town


Average Rent



Aix-en-Provence

€16.40

Amiens

€12.20

Angers

€10.70

Angouleme

€8.70

Bayonne

€10.20

Bergerac

€8.60

Beziers

€8.90

Bordeaux

€13.60

Biarritz

€12.70

Brest

€8.80

Caen

€12.10

Cahors

€8.20

Cannes

€15.70

Clermont-Ferrand

€10.40

Dijon

€11.70

Grenoble

€12.40

La Rochelle

€14.50

Le Havre

€11.50

Le Mans

€9.70

Lille

€13.70

Limoges

€9.30

Lyon

€13.30

Marseille

€12.80

Metz

€10.50

Montpellier

€14.00

Montreuil

€19.20

Mulhouse

€9.30

Nancy

€14.00

Nantes

€10.90

Nice

€18.90

Nîmes

€16.40

Orléans

€11.60

Paris

€26.20

Pau

€10.30

Perigueux

€9.10

Perpignan

€9.70

Poitiers

€11.40

Reims

€12.10

Rennes

€12.40

Rodez

€8.40

Rouen

€11.70

Saint-Etienne

€8.00

St Malo

€10.90

Strasbourg

€12.50

Toulon

€11.50

Toulouse

€12.80

Tours

€12.20

Villeneuve-sur-Lot

€7.40
Department Averages
The following graphic shows average rents in each department of France for all property types.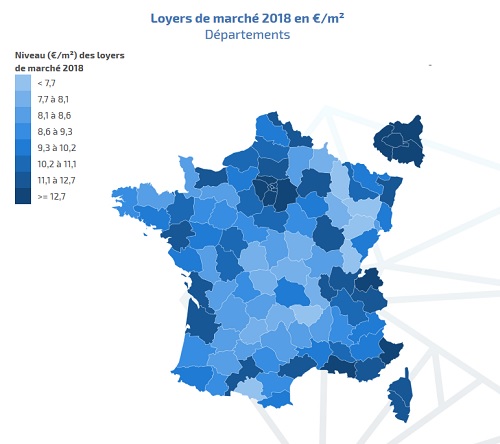 Source: Clameur
For the latest in-depth analysis, subscribe to our news service at France Insider.
France Insider is a subscription-based offer which has replaced our previous free Newsletter.