France a Country of 'Micro' Housing Markets
The Notaires de France and FNAIM, the professional body of agents, have each recently published their regular property market reviews, both of which point to a country of housing 'micro' markets.
The notaires state that, on an annual basis, house prices grew by 5.6% to the period ending September 2007 (their latest reporting period), but that there were significant differences across the country.
Within the Ile de France region prices rose by an average of 6.6%, although some of the arrondisements in Paris continued to see double digit price rises.
In practice, the notaires say the capital can be divided into four price zones:

Chic – in the 6eme, 7ème, 4ème, 5ème, 8ème and 1ème prices average between €7630 and €9144 per m²;
Expensive – in the 16ème, 3ème and 2ème prices average around €7000m²;
Tolerable – in the 9ème, 15ème, 14ème, 13ème, 12ème, 11ème and 17ème, prices average between €5500 and €6500 per m²;
Rump – in the 20ème, 19ème, 18ème and 10ème, prices are below €5500 per m².

Outside of Paris, prices have started to calm almost everywhere, but there is nothing even in the rhythm of the changes. Even in the normally buoyant Provence-Alpes-Côte d'Azur, Toulon saw increases no more than 3%, with Marseilles at 5%, although Nice went up by 9%.
In the South West, Bordeaux rose 8%, and Toulouse 7%, whilst in the Rhône Alps, Saint Etienne registered an increase of 13%, and Lyon 6%, in line with the national average.
The notaires report that there continued to be a strong presence of foreign buyers in smart areas of the South East. Thus, in Saint-Jean-Cap-Ferrat (Alpes Maritime) 64% of the buyers were from abroad, whilst in Ramatuelle (Var) it was 46%, at Villefranche-sur-Mer (Alpes Maritime) 55%, Chamonix (Haute-Savoie) 58%, Val-d' Isère (Savoie) 33%, and 55% in Les Gets (Haute Savoie).
Outside of the South East, around 20% of sales in the Dordogne and Creuse are to foreign buyers, whilst it is 15% in the Gers and Charente, and 10% in many of the other areas of the West and South West.
The British continue to remain the largest buyers of French property, accounting for around 60% of all foreign buyers. The Russians are now also buying in France, although generally restricting themselves to more spectacular properties in the South East.
Aix-en Provence and Nice remain the most expensive towns to live in France outside of Paris, with Lyon, Marseilles and Grenoble now in hot pursuit, having been much lower down the league table 10 years ago. Bordeaux has risen from 18th to 8th over the same period, whilst Toulouse has also risen to 7th from 15th. Conversely, Rennes has dropped back from 5th to 13th, whilst Strasbourg has also gone down from 3rd to 14th.
The notaires see no sign of a collapse in the market, which they consider rests dynamic, with over 800,000 transactions completed in their survey period, a level of activity equivalent to that which occurred in the previous year. Around 170,000 of these sales were in the Paris region.
Accordingly, the notaires consider that in 2008 'prices will continue to rise to around the level of inflation. That remains particularly true for property hot spots and large towns. Nevertheless, in certain regions where economic activity is fragile, or where foreign buyers are absent, prices are likely to stagnate. A uniform rise in prices is over.'
French property market review - FNAIM Report Rise of 4.3%
In their own more recent review of the market the professional body of estate agents, FNAIM, report that for the calendar year 2007 house prices rose overall by 4.3% but that, once again, there was significant variation as between the regions, as well as between property types.
Regional Prices 2007
| | |
| --- | --- |
| Region | Price Change |
| West | +3.6% |
| Ile de France | +5.6% |
| North East | +4.3% |
| South West | -0.1% |
| Centre and Alpes | +3.9% |
| South East | +6.9% |
| France | +4.3% |
Source: FNAIM
If analysed by size of property, then the average rise for smaller properties has been around 3.5% in the year, whilst larger properties have risen by an average of 5.3%.
The table below shows the average price per m² of property within each of the administrative regions of France. The table also shows the price growth in each region for the period 2000/2007. Like the notaires, and other analysts whom we have reported on in these pages in the past, FNAIM do not believe there is the prospect of a market crash in 2008, and forecast that, on average, prices will simply stagnate.
However, as we have talked before on these pages about the house prices in France, given the size and diversity of this country, there is a health warning about relying too much on 'average' price statistics. Whether buyer or seller, the real message from these surveys is that you need to understand your own local market.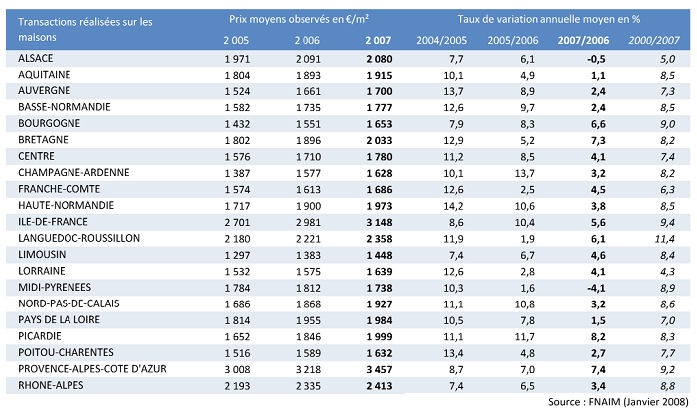 For the latest in-depth analysis of French property ownership and living in France, subscribe to our sister-site France Insider.
France Insider is a subscription-based offer which has replaced our previous free Newsletter.