Surge in Property Sales to British Buyers
Sales of property in France to British buyers increased by 33% last year, as buyers cashed in on a strong exchange rate and falling prices.

According to the 'Observatoire BNP Paribas International Buyers', the British are by far and away the largest group of international property buyers in France.

Out of total sales last year of 13,823 to non-resident international buyers, 4,355 of such sales were to buyers from the UK.

Although well down on the double digit figures of 10 years ago, it is a significant increase over 2012 (3,270) and 2013 (3,267).
In the Central West of the country British buyers account for around three-quarters of all sales to international buyers.
BNP attribute the increase in sales to low interest rates, a strenghtening of Sterling against the Euro, and the fall in prices.
As we reported recently, there is every indication that this upward trend in sales is continuing in 2015.
The most popular region for buying by British non-residents in 2014 was the Rhône-Alpes, accounting for 17% of all British purchases.

It was followed by Poitou-Charentes (10.8%), Provence-Alpes-Côte d'Azur (10.7%), Brittany (10,5%) and Languedoc-Roussillon (10.4%).
Those regions the least popular with the British were those in the east of the country - Lorraine (0.2%) Champagne-Ardenne (0.2%), and Franche-Comté (0.2%).
The British have always been the largest group of property investors in France, but what is less known is that existing British residents of France are also active in the French market place.
Figures from the study show that over the past three years they have bought around 2,000 properties a year in France, and last year sales to British residents increased by 22% to reach 2,405, at an average sales value of €199,000.
In total, therefore, last year the British purchased nearly 7,000 properties in France for a total investment of €1.6 billion.
The following graphic show the average purchase price paid by non-resident British buyers within each region of France.

As can be seen, in a surprising number of regions the purchase price was under €100K, but with substantial differences across the country.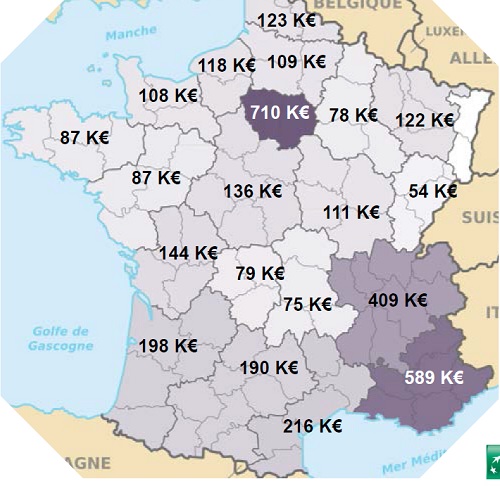 Source: BNP Paribas International Buyers

For the latest in-depth analysis, subscribe to our news service at France Insider.
France Insider is a subscription-based offer which has replaced our previous free Newsletter.