Sales to International Buyers in 2015
Sales of property in France to international buyers increased last year by 29%, with the British leading the pack.
Total sales to non-resident buyers were 17,785, a substantial increase over 2014 (13,823) and 2013 (13,621).
Of this total non-resident British nationals purchased 6,066, an increase of 44% over 2014, and nearly double the number purchased in 2013.
As can be seen by the graphic below, the British are consistently by far the largest group of international property buyers in France, with around one-third of all such purchases.
Source: BNP Paribas International Buyers

Amongst all international buyers the most popular region to buy in 2015 was Provence-Alpes-Côte d'Azur (22% of all sales), followed by Rhône-Alpes (16%) and Languedoc-Roussillon (11%).
British preferences were somewhat different, with their most popular region being the Rhône-Alpes, which accounted for 17.5% of all their purchases. The vast majority of such sales were for ski properties in the Haute-Savoie.

Other regions popular with the British were Languedoc-Roussillon (11.2%), Poitou-Charentes (10.8%), Brittany (10.6%), Provence-Alpes-Côte d'Azur (10.1%), and Aquitaine (8.6%).
International sales in some regions were dominated by British buyers. In Poitou-Charentes they accounted for 77% of all non-resident sales and similar figures were reached in Lower Normandy (77%), Limousin (72%), and Brittany (70%).

The average transaction value by British buyers was €262K, in line with the past three years. That is slightly lower that the overall average sale value of €310K.

However, as can be seen from the graphic below, the national figure disguises substantial regional differences, as the average spend of British nationals ranged from €797K in the Ile de France to €42K in the Auvergne region.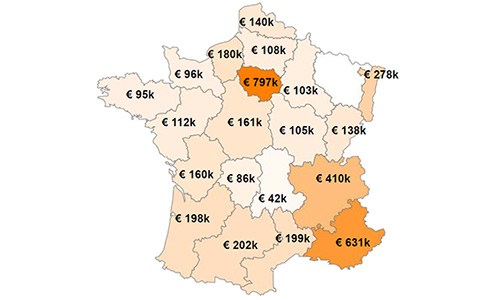 Source: BNP Paribas International Buyers

For the latest in-depth analysis, subscribe to our news service at France Insider.
France Insider is a subscription-based offer which has replaced our previous free Newsletter.