Brexit Impacts on Sales to British Buyers
Brexit has created some hesitancy amongst British buyers of French property, with sales last year slightly down on 2015.

According to the latest BNP Paribas International Buyers Survey, sales of French property to non-resident British nationals last year were 7% down on 2015 at 5,492.
Although a far cry from the halcyon days of the mid-2000s, when there were around 15,000 sales to Brits each year, the figure was 34% higher than in 2014, and 90% higher than the sales in 2013.
The fall chimes with a separate survey carried out by Ipsos, which showed that as a result of Brexit 28% of prospective British buyers of French property had abandoned their plans to buy, although 30% had decided to accelerate their purchase. For the vast majority, therefore, Brexit has had no impact on their plans to buy property in France.

Interestingly, British nationals who are residents of France are also significant buyers of French property, last year buying almost half the number of properties purchased by non-residents (2,804), giving a total of 8,296 purchases by British buyers.

That is a trend that has been on the increase in recent years, in large measure due to the number of British nationals who relocate to France to rent in the first instance, and then later buy a property. There are also many who relocate and later invest in French property and yet others who simply decide to relocate to another property in France.

Total sales to all non-resident buyers were 17,140, a fall of 3.6% over 2015, but substantially above 2014 (13,823) and 2013 (13,621). Most of the fall in 2016 is accounted for by lower sales in the Paris region (-15%), than in the provinces (-2.5%)

As can be seen by the graphic below, the British are consistently by far the largest group of international property buyers in France, with around one-third of all such purchases.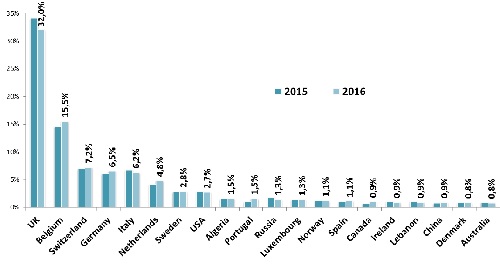 Source: BNP Paribas International Buyers

The most popular region for British buyers was the Rhône-Alpes, which accounted for 14.8% of all their purchases. The vast majority of such sales were for ski properties in the Haute-Savoie.

Other regions popular with the British were Aquitaine (11.6%), Poitou-Charentes (10.9%), Brittany (10.3%), Provence-Alpes-Côte d'Azur (10.3%). Languedoc-Roussillon fell several places in popularity last year with 9.7% of sales, down from 11.6% in 2015.

Some regions were dominated by British buyers. In Poitou-Charentes they accounted for 77% of all non-resident sales, and similar figures were reached in Limousin (76%).

The average transaction value by British buyers was €256K, down from €262K in 2015 a figure also substantially lower that the overall average sale value to foreign non-residents of €308K.

However, as can be seen from the graphic below, the national figure disguises substantial regional differences, as the average spend of British nationals ranged from €627K in the Ile de France to €88K in Brittany.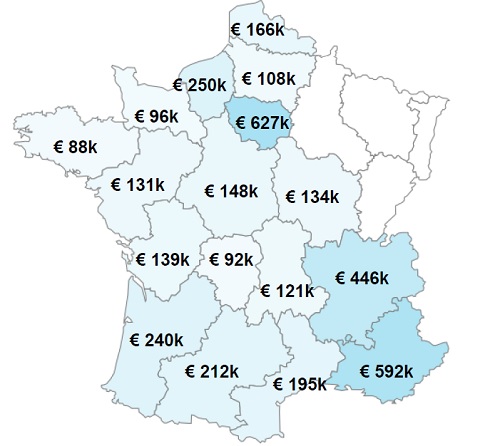 Source: BNP Paribas International Buyers