Sales to British Buyers in 2017
Sales of French property to British non-residents fell for the third year running last year, whilst those to existing residents is on the rise.

Whilst non-resident British nationals continue to be far and away the largest group of international property buyers in France, their share of the market fell to 26% last year, down from 33% in 2016, although in line with historic trends.

Total purchases by UK non-residents was 4,527, compared to 5,492 in 2016 and 6,066 in 2015.
However, the fall in non-resident purchases was matched by an increase in sales to existing residents, up 17% from 2016 to reach 3,285. Sales to UK residents in 2016 was 2,804, with a similar figure (2,827) in 2015.

The table below shows the 5-year trend in purchases by resident and non-resident UK nationals since 2013.
Sales to UK Nationals

Year


Residents



Non-Residents

2013

1,974

3,267

2014

2,295

4,198

2015

2,827

6,066

2016
2,804

5,492

2017
3,285

4,527


Total




13,185

23,550
The average spend by UK resident buyers last year was €209K, in line with previous years, whilst non-residents spent on average €252K, down from €262K in 2013.
However, these figures disguise substantial differences by region, ranging from €57K in the Auvergne to €741K in Provence-Alpes-Côte d'Azur, as is shown on the following graphic.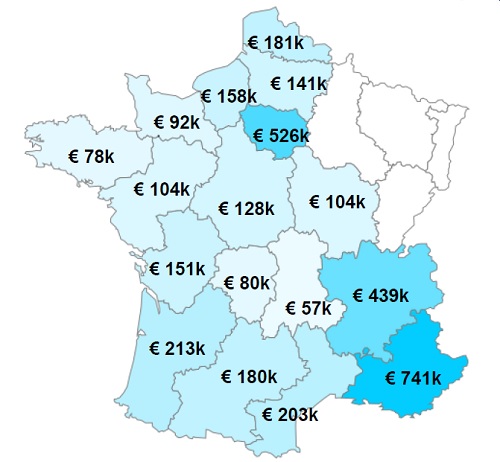 Source: BNP Paribas International Buyers
For the latest in-depth analysis, subscribe to our news service at France Insider.
France Insider is a subscription-based offer which has replaced our previous free Newsletter.