Vineyard Prices in France 2012
Expect to pay anything between €4,000 and €4 million a hectare for a vineyard in France!
The divergences in vineyard prices in France are so great that generalisations offer very limited explanation.
Even at a regional level, such are the variations between different appellations and classifications that buyers have to undertake their market research with great care.
It is the same for the performance of the market, for all that can be broadly stated was that it was a mixed year for the wine growing areas of France: whilst some vineyards showed an upward trend, many went downward.

Amazing price growth occurred in Champagne, where vineyard prices grew by an eye watering 21.5%. The price increase reflects the huge popularity of these wines in Asia, with exports having risen substantially in recent years.

Outside of Champagne, AOP vineyards (formerly Appellation d'Origine Contrôlée - AOC) rose by an average of 2.6% last year, to reach an average of €58,700 per hectare. This was the weakest increase since 2006, a feature of the global economic malaise.
The following table shows the average sales price per hectare, with the variation from 2011, for AOP vineyards in each of the main wine areas of France.

French AOP Vineyard Prices 2012

Region

Price €/HA




Variation 11/12(%)

Alsace-East
139,900
+5.5
Bordeaux-Aquitaine
82,000
+3.3
Burgundy-Beajolais-Savoie-Jura
135,500
+2.5
Champagne

1,088,700
-21.5
Corsica

17,500
+11.5
Languedoc-Roussillon

11,800
-1.7
South-West

13,500
-1.5
Val-de-Loire-Centre

27,700
- 2.2
Rhone Valley-Provence

37,500
+0.8
France AOP

131,700
+13.5
France AOP (ex Champagne)

58,700
+2.6%
Source: SAFER
Vineyards outside of this classification with geographic indication (IOP) also saw a positive growth of an average of 6% to reach €11, 900 per hectare. This increase follows a 4% rise last year after several years when the average prices fell.
Drill down into the figures and the magnitude of the differences that 'average' prices can hide becomes apparent.
Thus, in Bordeaux, highest prices for vineyards are in the Paulliac appellation at an average price of €2 million a hectare, followed by Saint-Julien-Margaux at €1m/ha, and Pomerol at €900K/ha. By contrast, more down to earth prices can be found for Bergerac (€10k/ha), Bordeaux rouge (€15K/ha), or Cotes de Marmandais (€9K/ha).
In Burgundy, vineyards of the Bourgogne Grand Cru reach stratespheric prices at €3.8 million/ha, the highest priced vineyards in France. Lower classed Bourgogne Premier Cru sells at €500K/ha and Bourgogne Rouge at €32K/ha. The cheapest Beaujolais can be had for €10/ha, whilst prices reach €81K/ha for Fleurie vineyards.
Vineyards in Champagne sell for anything between €800k/ha and €1.6m/ha.

In Languedoc-Roussillon, which is increasingly offering a range of excellent wines, vineyard prices are far more modest, ranging from €10k/ha up to €37K/ha for vines of the Pic Saint-loup in the Herault department.
Vineyard prices are lowest in the South-West of France, starting at €5K/ha at the bottom end, up to around €45K/ha for the vineyards of the lovely white wines of Jurançon.
In the Loire, many vineyards can be purchase for well under €10K/ha, rising to around €145K/ha for a Pouilly-Fumé vineyard, and €140K/ha in Sancerre.
Finally, in the Rhone, prices are very diverse. At the top end are the vineyards of Hermitage and Côte-Rotie (€900K/ha), Châteauneuf-du-Pape (€340K/ha), down to Côtes du Rhône at around €12K/ha.
Prices for individual vineyards may well fall out of these ranges, which are merely averages for each zone. In addition, in some areas the market is small, which may distort averages for these areas.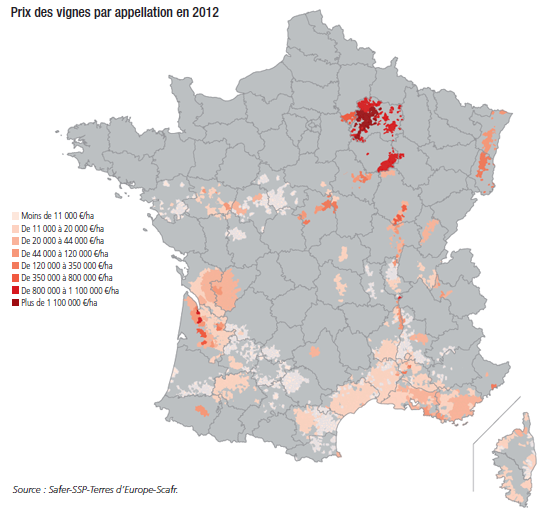 For the latest in-depth analysis, subscribe to our news service at France Insider.
France Insider is a subscription-based offer which has replaced our previous free Newsletter.