Vineyard Prices in France 2014
Vineyard prices in France rose by an average of 3.6% last year, with the average price for an AOP vineyard reaching €136,400 a hectare.

According to SAFER, (Société d'aménagement foncier et d'établissement rural) there were 9,400 sales of vineyards in 2014, up by 9.7% from 2013. The total surface area sold was 16,400 hectares (+4.9%), with a total sales value of €780 million (+2.7%).

However, the overall buoyancy and size of the market disguises enormous differences in prices and the level of sales activity, with some appellations where sales were dormant and prices either stable or falling.

Even at a regional level, such are the variations between different appellations and classifications (notably Appellation d'Origine Protégée - AOP and Indication Géographique Protégée - IGP) that buyers need to undertake their market research with great care.
In Alsace, prices per hectare range between €50K and over €300K, in a market where prices rose by an average of 6.6% last year.

The Bordeaux area accounted for 21% of total sales last year and 40% by value, highest prices for vineyards are in the Paulliac appellation at an average price of €2 million a hectare, followed by Saint-Julien-Margaux at €1m/ha, and Pomerol at €900K/ha.

By contrast, more down to earth prices can be found for Bergerac (€10k/ha), Bordeaux Rouge (€15K/ha), or Cotes de Marmandais (€9K/ha), but where the profitability of such vineyards is much more uncertain and a significant number of owners are in financial difficulty.

In Burgundy, the vineyards of Bourgogne Grand Cru can reach stratospheric prices, around €5m/ha, the highest priced vineyards in France, although only a very small number achieve such a figure. Lower classed Bourgogne Premier Cru can sell at anything between €250K/ha and ten times this amount depending on the vineyard. Cheaper Burgundy averages around €34K/ha. The cheapest Beaujolais vineyards average around €10K/ha, but the best can achieve €100K/ha.

Vineyards in Champagne have the greatest concentration of expensive vineyards, which sell for €1.5m/ha, although many sell for half this price. The price of the vineyards in this region explains why the value of sales last year accounted for 22% of the national total, despite being only 1% of total sales. Vineyard prices in the region rose by an average of 4.2% last year.

In the vast Languedoc-Roussillon region vineyard prices are more modest, but equally varied, ranging from €10K/ha in many areas, up to €37K/ha for vines of Pic Saint-Loup in the Herault department. IGP vineyard prices are lower. In the adjoining Pyrénées-Orientales, the sweet wines of this area continue to suffer from a lack of customer demand, with average prices for the vineyards flagging at between €8K/ha and €22K/ha.

Market activity in the South-West is very small and vineyard prices fell last year by an average of 0.7%. Prices for vineyards are amongst the lowest in France, starting at €5K/ha at the bottom in many areas, up to around €45K/ha for the vineyards of the white wines of Jurançon. The vineyards of Madiran in Gascony fell by 11% in the year, down from an average of €18K/ha to €16K/ha, although caution in needed in interpreting this fall as the level of activity was not significant and prices vary.

In the Loire, many vineyards can be purchased for well under €10K/ha, rising to €147K/ha for a Pouilly-Fumé vineyard and €140K/ha in Sancerre.

Finally, in the Rhone, prices are again very diverse. At the top end, prices for the vineyards of Hermitage and Côte-Rotie average €1mK/ha) and Châteauneuf-du-Pape (€360K/ha), down to the stagnating Côtes du Rhône, starting at around €12K/ha, but with IGP vineyards lower.

Prices for individual vineyards may well fall out of these ranges. In addition, in some areas the market is small and local, which will inevitably distort averages for these areas.
The following graphic shows the location of the wine areas in France and the average prices for vineyards within each area.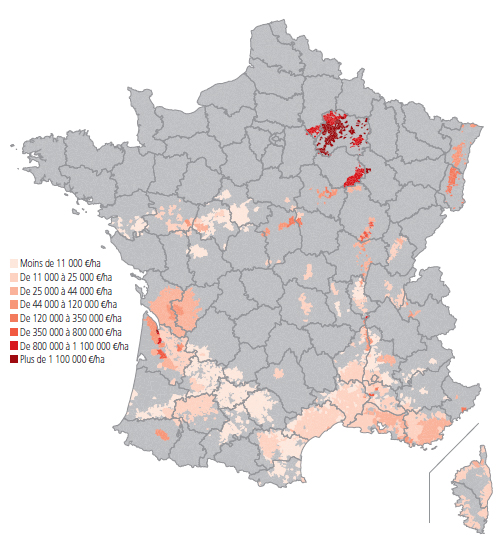 Source: Safer-SSP-Terres d'Europe-Scafr
For the latest in-depth analysis, subscribe to our news service at France Insider.
France Insider is a subscription-based offer which has replaced our previous free Newsletter.