Vineyard Prices in France 2017
Thursday 06 September 2018
Buying a vineyard in France will cost you anything between €5,000 and €5 million a hectare.
According to the French rural land agency 'SAFER' (
Société d'aménagement foncier et d'établissement rural
), it was another busy year in the market for vineyards last year, with total sales approaching 10,000, for a surface area of 16,500 hectares, equivalent to just over 2% of the total vineyards.
The sales value totaled €1.3 billion, much of it accounted for by a small number of exceptional high-value sales.
The average price for a non-AOP
(Indication Géographique Protégée - IGP)
vineyard was €13,800/ha, an increase of 3% on 2016.
In contrast, the average sales value of
Appellation d'Origine Protégée (AOP
) vineyards (excluding Champagne) last year was €69,300/ha, an increase of 4.3% over the previous year.
Over the past 20 years, whilst the national average price for IGP vineyards has remained fairly stagnant, AOP vineyards have increased in price on average by 70%, excluding Champagne, which has risen by over 300% in the same period.

Aside from prices, the market is not an easy one to enter, very often only open to friends, neighbours, relatives, existing tenants, and those who have a fortune to blow or who are willing to take a risk with an unfavoured vineyard
A summary review of the vineyard market in each region will amply demonstrate the need for a strong understanding of the local market before considering a purchase.

In
Alsace
, prices in the region range between €50K and over €300K per hectare. Last year, the average price per hectare rose 7% to €133,400, with higher average prices in the department of Haut-Rhin that its sibling Bas-Rhin.
Bordeaux
prices rose on average by 3.1% to reach €95,100 per hectare, but with enormous differences in the region. Highest prices for vineyards are in the Paulliac appellation at an average price of €2 million a hectare, followed by Pomerol where you can expect to pay at least €1,500K/ha and Saint-Julien-Margaux at €1m/ha. However, it is not all so inaccessible, with a number of smaller appellations in the Bordeaux area where prices are under €30/ha, but where the profitability of such vineyards is much more uncertain.
In
Burgundy
, the vineyards of the Côte-d'Or attract huge interest, from professionals and investors alike. Vineyards here can reach stratospheric prices, reaching a maximum of €14m/ha last year, although most transactions are around €5m/ha, the highest priced vineyards in France. Lower classed Bourgogne Premier Cru can sell for anything between €300K/ha and ten times this amount, depending on the vineyard. Cheaper Burgundy averaged €41K/ha in the year. Although not strictly 'Burgundy' in neighbouring Beaujolais vineyard prices averaged around €11K/ha, but the best were sold for well over €100K/ha.
Vineyards in the
Champagne
have the greatest concentration of expensive vineyards, which sell for upwards of €1m/ha. As a result, AOP champagne accounts for 7% of the total surface area of vineyards in France, but 55% in terms of value. Vineyard prices rose by around 3% in the year.
In the vast
Languedoc-Roussillon
region vineyard prices are more modest but varied, ranging from €10K/ha in many areas, up to €40K/ha for vines of Pic Saint-Loup in the Herault department. Generally speaking, prices moved up in the year, notably in Terrasses de Larzac (a newly created AOP) where prices rose 18% to average €20K/ha.
In the
Pyrénées-Orientales
department of Languedoc-Roussillon the sweet wine producers in Rivesaltes faired badly, with prices falling by 10% to €9.5K/ha. Vineyard prices for Cotes de Roussillon averaged €10K/ha, whilst in Banyuls and Collioure they remained stable at €22.5K/ha.
Vineyard prices in the
South-West
region are amongst the lowest in France, starting at €5K/ha at in many areas, up to around €40K/ha for the vineyards of the white wines of Jurançon. However, market activity in the is very small with prices in most appellations remaining stable.
The
Loire
is another vast and varied region, where the market is small and rather closed and whose performance is very mixed. Many vineyards can be purchased for well under €10K/ha, rising to €155K/ha for a Pouilly-Fumé vineyard and €160K/ha around Sancerre, the latter rising 10% in the year.
In the
Rhone
, prices are again very diverse, and many markets are also effectively closed. At the top end, prices for the vineyards of Côte-Rotie averaged €1m/ha. In Cornas values averaged €450K/ha, whilst in Châteauneuf-du-Pape €405K/ha, and in Gigondas €180K/ha. At the bottom end Côtes du Rhône starts at around €22K/ha, Ventoux at €20K/ha, with IGP vineyards lower.
Further south, in neighbouring
Provence,
demand is strong, but few vineyards are available. Prices start at around €25K/ha, rising to around €160K for the big red wines of Bandol.
Prices for individual vineyards may well fall out of these ranges. In addition, in many areas the market is small and local, which will inevitably distort averages for these areas.
The following graphic shows the location of the wine areas in France and the average prices for vineyards within each area in 2017.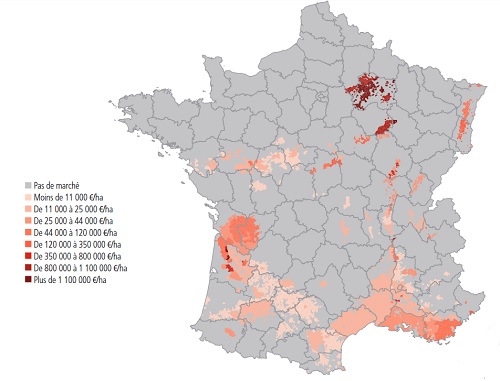 Source: Terres d'Europe-Scafr, Safer and SSP
View a selection of vineyards for sale in France
For the latest in-depth analysis, subscribe to our news service at France Insider.
France Insider is a subscription-based offer which has replaced our previous free Newsletter.