Vineyard Prices in France 2019
Vineyard prices remained broadly stable last year, averaging €148K per hectare for AOP vineyards, but it's a market where few generalisations are possible.
According to the French rural land agency 'SAFER' (
Société d'aménagement foncier et d'établissement rural
), there were 9,200 vineyard sales last year, totalling over 18,000 hectares, for a total sales value of nearly €1billion.
A small number of prestigious sales account for much of that sales value, and although the amount of land sold appears substantial, it is equivalent to under 3% of the surface area of vineyards in France.
One third of the sales were to existing tenants, who have a right of first refusal if the land comes up for sale. A further one-third by surface area were sold to those who were not currently engaged in agriculture, many of whom can be presumed to be investors.

As can be seen from the graphic below, overall prices rose last year, but in Champagne and in the South-West wine regions there was a marginal fall in average prices. Excluding Champagne, AOP vineyard prices rose on average by 3.4%.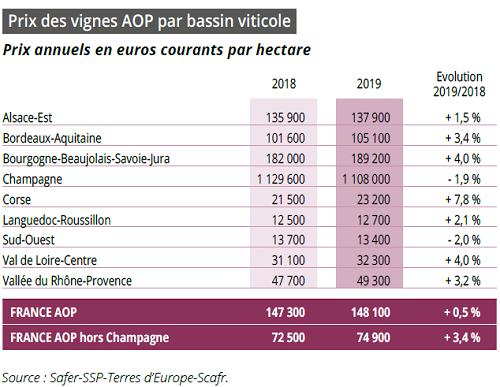 Even this table does not convey the wide variation in prices that exist within regions or the differences in the fortunes of AOP and non-AOP vineyards.
Whilst AOP vineyard prices average €148K/HA, strip out Champagne and it falls to €75K/HA, whilst the average price for non-AOP vineyards is €14K/HA.
Indeed, most of the increase in vineyard prices over the past 30 years can be attributed to the astronomical increase of prices in Champagne, which have risen from an average of €250K/HA in 1990 to around €1.2M/HA in 2019, having reached a high point of €1.2M/HA in 2015, as the graphic below shows.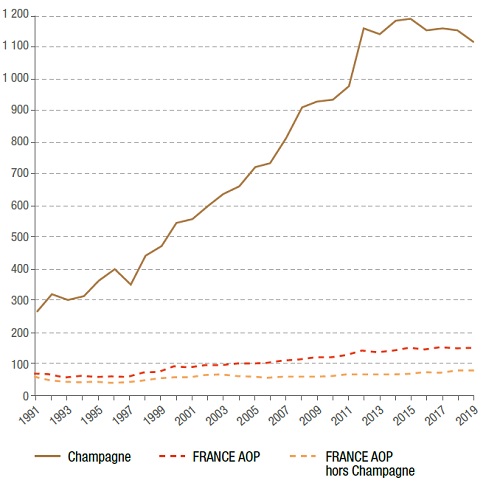 A tour d'horizon of the main wine regions.

In
Alsace
, AOP prices averaged €115K/HA in Bas Rhin, whilst in its sibling Haut Rhin they averaged €155K/HA, in each case increasing moderately in the year. However, prices vary enormously, with some vineyards selling for under €50K/HA, whilst other were over €600K/HA and SAFER report signs of difficulty in the market.
In Bordeaux the variety of appellations that exist makes any reference to average prices meaningless, with prices ranging from €8K/HA in Bergerac, to over €2M/HA in Paulliac. In the year, prices in most of the smaller appellations fell, down around 10% for Cotes de Bordeaux. Conversely, prices in Paulliac (€2.3M/HA), Margaux (€1.3M/HA), St Julien (€1.3M/HA), Pomerol (€1.9M/HA) all increased. In Saint Emilion (€290K/HA) prices increased, but there is a substantial variation in prices in the appellation, ranging from €250K/HA up to €3M/HA.

It's a similar picture in Burgundy, where prices for Grand Cru average €6.5M/HA, and which have been on the ascendency for many years. Bourgogne Premier Cru can sell for anything between €300K/ha and ten times this amount, depending on the vineyard. Cheaper Burgundy can be purchased for €30K/Ha to €50K/HA. Although not 'Burgundy', in neighbouring Beaujolais vineyard prices averaged around €12K/HA, but the best (Fleurie, Moulin à Vent) were sold for circa €120K/HA.

As we indicated above, vineyards in the Champagne have the greatest concentration of expensive vineyards, which sell for upwards of €1M/HA, although prices dipped in the year. AOP champagne accounts for 7% of the total surface area of vineyards in France, but 55% in terms of value.

In the vast Languedoc-Roussillon region vineyard prices are more modest but varied, ranging from €10K/HA in many areas, up to €55K/HA for vines of Pic Saint-Loup in the Herault department. The market is more active than in other areas, and Safer report that a growing number of sales are occurring due to fatigue with the difficult climatic conditions that are being experienced. Generally speaking, prices were stable in the year, although in the prestigious Pic-Saint-Loup they increased 10%, with prices in the appellation rising strongly each year. Prices averaged €26/HA in Picpoul de Pinet and €23.5K/HA in Terraces de Larzac. Cheapest AOP vineyards were in the Corbieres at €9K/HA in the Minervois at €11K/HA.

In the Pyrénées-Orientales department of Languedoc-Roussillon prices for vineyards in Banyuls and Collioure fell 12% to average €22K/HA. The sweet wine producers in Rivesaltes fared badly again, with vineyard prices averaging €7.5K/HA. Prices for Cotes de Roussillon vineyards averaged €10K/HA, falling 5%.

In the
South-West
region, most areas showed no movement in prices, but activity was not significant. Many vineyards in the region can be purchased for around €10K/HA, up to around €40K/HA for the vineyards of the white wines of Jurançon. In Madiran prices averaged €16K/HA, whilst in Fronton €8K/HA. Cahors vineyards averaged €11K/HA.
The
Loire
is another vast and varied region, where the market is small and rather closed and whose performance is very mixed. Once again, many vineyards can be purchased for well under €10K/ha, rising to €155K/ha for a Pouilly-Fumé vineyard, which remained stable in the year, and €170K/ha around Sancerre, the latter rising 3%.
In the
Rhone
, it was a busy year for sales increasing by 30% in surface area sold and by 54% in value. Once again, however, prices are again very diverse, and many markets are also effectively closed. At the top end, prices for the vineyards of Côte-Rotie averaged €1.1M/HA, whilst Condrieu not much less. In Cornas values averaged €500K/HA, in Châteauneuf-du-Pape €450K/HA, whilst in Gigondas €200K/HA and Vacqueyras €100K/HA. In all cases, prices rose in the year. At the bottom end Côtes du Rhône starts at around €20K/HA, Ventoux at €20K/HA, with IGP vineyards lower.
Further south, in neighbouring
Provence,
demand is strong, but few vineyards are available. Prices start at around €25K/HA, rising to an average of €125K/HA in Bandol.
Prices for individual vineyards may well fall out of these ranges. In addition, in many areas the market is small and local, which will inevitably distort averages for these areas.
The following graphic shows the location of the wine areas in France and the average prices for vineyards within each area in 2019.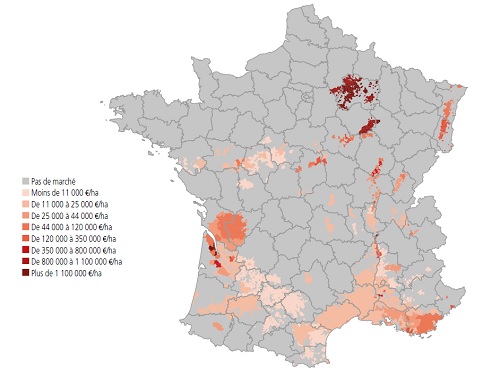 Source: Terres d'Europe-Scafr, Safer and SSP
For the latest in-depth analysis, subscribe to our news service at France Insider.
France Insider is a subscription-based offer which has replaced our previous free Newsletter.