Where to Buy Property in France
A new report points to the contrasting nature of the housing market in different parts of France.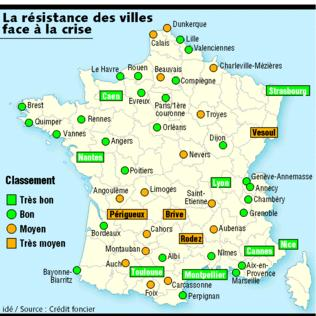 The study by French mortgage specialist Crédit Foncier examined the housing market in the major cities and towns of France.
The authors conclude that, whilst property prices in some towns and cities might drop by as much as 20% in 2009, in other cases prices could remain stable over the year.
Those places that appear to be in the best position to resist the present property crisis were Toulouse, Nantes, Strasbourg, Cannes, Nice, Montpellier and Caen.
By contrast, those likely to suffer most were Brive, Périgueux, Vesou and Rodez.
The differences could be explained by key demographic, economic, and infrastructure factors in each area, crucial in determining the relationship between offer and demand.
As well as factors within the local political economy, there was also a clear relationship between proximity to the centre and market outlook.
City centre locations in the strongest towns and cities of France were best placed to resist a drop in property prices, as they were also likely to be the first to benefit from a turnaround in the market.
By contrast, property prices in rural areas, and those on the periphery of urban areas, could drop by as much as 20% in 2009.
Thus, whilst property prices in the centre of Toulouse may drop by a maximum of 5% in 2009, house prices in the outer suburbs of the city may drop by as much as 20%.
The same scenario was likely to be played out throughout much of the country.
The authors point to the current stark difference between the nature of demand and the offers available on the market. Whilst 75% of the demand for housing had a maximum purchase price of €2,500 per m2, the majority of the offers were situated between €3,000-€3,500 per m2.
In some areas of the country the production of new homes had also outstripped the level of local demand, driven in large measure by the fiscal incentives available for new construction, and not by a cool assessment of the local market.
Crédit Foncier consider that the drop in mortgage interest rates is not going to be sufficient to bridge this gap, so that a continuing fall in property prices in most places in France is inevitable.
Nevertheless, they exclude any risk of a complete collapse of the market, due in large measure to an accumulated production deficit over the past 10 years of around 1.7 million homes.
They also point to several measures that have been taken recently by the French government to help kick start the market, in particular by an increase in the availability of interest free mortgages for first time buyers.
The following table shows the main list of towns in the study, together with their ranking, in descending order of their capacity to withstand a fall in prices.
| Rank | Towns |
| --- | --- |
| 1 | Toulouse, Caen, Strasbourg, Cannes, Nice, Montpellier, Lyon, Nantes |
| 2 | Annecy, Compiègne, Chambéry, Grenoble, Rouen, Rennes, Genève-Annemasse, Aix en provence, Brest, Albi, Quimper, Bordeaux, Bayonne, Biarritz, Poitiers, Marseille, Lille, Valenciennes, Le Havre, Evreux, Vannes, Nîmes, Perpignan, Dijon, Orléans, Angers |
| 3 | Niort, Pau, Agen, Montbéliard, Toulon, Belfort, Valence, Macon, Chalons en Champagne, Chaumont, Reims, Arras, Nancy, Metz, Auxerre, Avignon, Besançon, Clermont-Ferrand, Mulhouse, Bourges, Le Mans, Laval |
| 4 | Limoges, Montauban, Beauvais, Nevers, Troyes, Saint-Etienne, Charleville, Auch, Cahors, Foix, Aubenas, Calais, Angoulême, Dunkerque, Carcassonne |
| 5 | Brive, Périgueux, Vesoul, Rodez |
For the latest in-depth analysis, subscribe to our news service at France Insider.
France Insider is a subscription-based offer which has replaced our previous free Newsletter.