There have been some signs of encouragement for Sterling in recent months, although the outlook remains uncertain, writes Michael Steenkamp,
Over the second quarter of this year the Pound has demonstrated healthy gains over the Euro, steadily increasing in value from around 1.07 Euros to the Pound in April through to the end of June where it peaked at around 1.1850 Euros to the Pound.
Reviewing the market over a period of time allows us to establish market direction and trend. As you can see the currency market is extremely liquid and very sensitive. A lack of knowledge and a poor understanding of what affects the exchange rates is what makes this market particularly unforgiving.
In fact the exchange rate moves constantly and can move a large amount in a relatively short period of time.
What most people don't know though is why the currency market moves the way that it does and how these movements affect their individual currency requirements and situation.
Consider for a second the GBP/EUR exchange rate on the 1st of April 2009 (1.0783) and the 30th June 2009 (1.1760). As a property buyer, these rates represent a difference of £19,200 on a €250,000 property.
Unfortunately this situation is extremely common as most property transactions take around 3 months to complete. If you as an individual were unlucky enough to have bought your currency at the wrong time, it could have cost you an extra £20k to buy the same amount of Euros.
It is important to remember that every time the market moves there will be a reason for it. Monthly data releases come together in the form of an economic calendar and cover everything from interest rate decisions and inflation reports to retails sales figures and house prices. Looking at the data released over this period of time it's easy to see that this market is largely sentiment driven. Positivity or negativity filter through to the market, and the exchange rates react accordingly.
Market sentiment, the general attitude of people in the UK, has definitely changed in the last 3 months; believe it or not there are encouraging signs of recovery on the horizon.
UK house prices have risen a couple of times in last few months which demonstrates at least some improvement in current market conditions. Recent retail sales figures and manufacturing figures have also demonstrated some positivity which has begun to filter through to the exchange rate. Retail sales figures are always an important indicator as they allow us to gauge consumer sentiment and measure how comfortable people are with spending money.
Going forward the Pound is still expected to be overshadowed by political tension.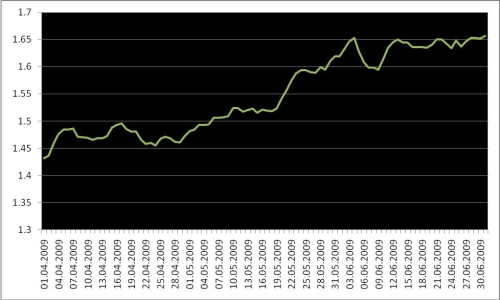 Against the US Dollar, the GBP/USD exchange rate has demonstrated a similar trading pattern increasing in value by around 13% over the course of the last 3 months. Major movement took place around the 22 of May 2009 and carried through to the first week of June 2009 where the exchange rate has remained relatively range bound since. A large proportion of this movement can be attributed to the release of news suggesting that the US may eventually be forced to accept a credit downgrade as a result of its huge budget deficit and weakening economy. As seen and mentioned above, around this period in time we also see a surprise jump in the average price of UK property, up 1.2% in May, the strongest monthly gain in a over a year and a half.
Michael Steenkamp
Director
Foreign Currency Exchange Ltd
www.fcexchange.co.uk