Food Prices in France and UK
Food prices are cheaper in France than the UK, but not so much as you would notice, according to a recent survey of food prices in Europe undertaken by the OECD.
Not surprisingly, cheapest food prices in the EU are to be found in the new accession Eastern European countries, whilst those in Scandinavia the most expensive.
Topping the list as the most expensive country in Europe for food is Iceland, whilst the cheapest is Bulgaria.
The United Kingdom comes in 10th most expensive country in Europe for food and non-alcoholic beverages, whilst France lies in 14th place.
When prices between France and the United Kingdom are compared, then the UK comes out 7% more expensive.
Food Price Index in Europe 2006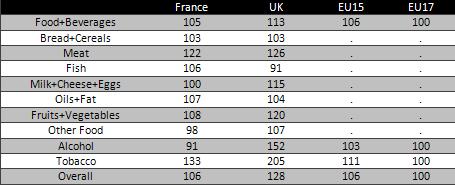 As can be seen from the table, France is considerably cheaper than the UK for fruit and vegetables and dairy products, although the UK has lower fish prices. The two countries are neck and neck on the price of bread and cereals.
As compared with other countries in Europe, the meat counters of both countries compare unfavourably, with the UK the 6th most expensive country, and France in 9th place.
Whilst both countries are amongst the most expensive places in Europe for cigarettes, France is one of the cheapest countries in Europe for alcoholic drinks and the UK one of the most expensive.
The survey does not say anything about food quality, but then you may be in the best position to judge!
For the latest in-depth analysis, subscribe to our news service at France Insider.
France Insider is a subscription-based offer which has replaced our previous free Newsletter.