Garage Workshop Prices in France
Dealership workshop labour rates on French badged cars may well be lower than other brands, but in both cases it is considerably cheaper to use an independent garage.

According to the car magazine L'Argus, the average workshop labour rates vary between €67 and €117 per hour.
The low-cost dealer Dacia has the cheapest rates, whilst at the top of the pile is the premium car maker BMW. The French car makers Renault, Peugeot and Citroen are all situated in the bottom quartile of rates. Rates shown below are ex VAT.

Garage Hourly Rates

Make



Rate


Make



Rate

Dacia
€74
Renault
€74

Peugeot
€76
Citroen
€77
DS

€77
Mazda
€86

Suzuki
€88
Nissan
€88*

Ford
€89

Mitsubishi
€90
Hyundai
€90

Opel
€90
Fiat
€91
Kia
€92

Seat
€93
Alfa Romeo
€95

Toyota
€95
Skoda
€96

Mercedes
€97*
Volkswagen
€98

Jeep
€100
Volvo
€107

Audi
€115
Jaguar
€117

Landrover
€117
Lexus
€117
Mini

€119
BMW

€119

*The makers of Mercedes and Nissan did not participate in the survey this year, so their 2017 is used in this years' ranking and for Mercedes it is their general servicing rate.
Although not shown here, the rates for all the dealers differ by type of work undertaken, with general servicing the lowest rate, and a higher rate charged where the work requires the intervention of specialist labour and equipment.

Thus, rates in a Renault dealer vary between €67 and €82, whilst those for Audi between €110 and €121, and for Volkswagen between €93 and €104. There are also variations in rates by region.The table shows the average of all rates.
Whilst for newer vehicles and more complex work it may be necessary to use a dealer garage, where possible it often makes sense to use an local independent garage or a network service centre. There are now many of these centres across France, such as Midas, Speedy, Point S, Norauto, Feu Vert, Euromaster, Maxauto, or Leclerc.

According to the government competitions authority (
Autorité de la concurrence
), rates are lower by between 15% and 30% in independent garages and '
centres autos
'. The rates of both independent garages and the service centres were broadly comparable.
In considering the different rates L'Argus also undertook a survey of the level of customer satisfaction of the different car brands.

As can be see from the graphic below, the highest level of satisfaction was expressed by Lexus car owners, with Honda and Porsche sharing the podium.
In contrast to the cheaper garage labour rates offered by French car dealers, the level of satisfaction with French made cars was less than average.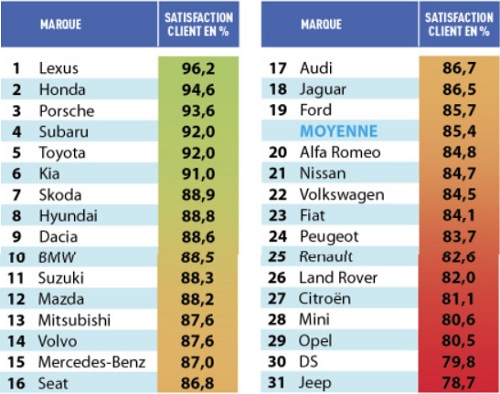 For the latest in-depth analysis, subscribe to our news service at France Insider.
France Insider is a subscription-based offer which has replaced our previous free Newsletter.