French Home Insurance and Climate Change
Home insurance claims and premiums are set to rise significantly as a result of climate change, according to the French insurance regulator.
The Autorité de contrôle prudentiel et de résolution (ACPR), a branch of the French Central Bank, has warned that the cost of natural disaster claims could increase by up to 500% over the next 30 years, leading to an increase in insurance premiums of between 130% and 200%.
That is annual increase of 2.8% to 3.7% for the additional cost of climate change alone, to which other inflationary increases must be added.
The regulator questions whether such an increase is sustainable, as it will substantially outstrip the growth in national income and home owners may be unable to afford the increases.
The regular also questions whether some risks will continue to be insurable, citing the case in California where in some areas it has become almost impossible to insure against fire.
The risk of increased droughts, floods or storms varies across the country and the graphic below shows the cost of natural disasters per habitant in 2019, ranging from €2.21/ph in Calvados to €79.95/ph in the Var.
The colours also show the forecast increase in such disasters to 2050, with the problem forecast to be most severe in the west.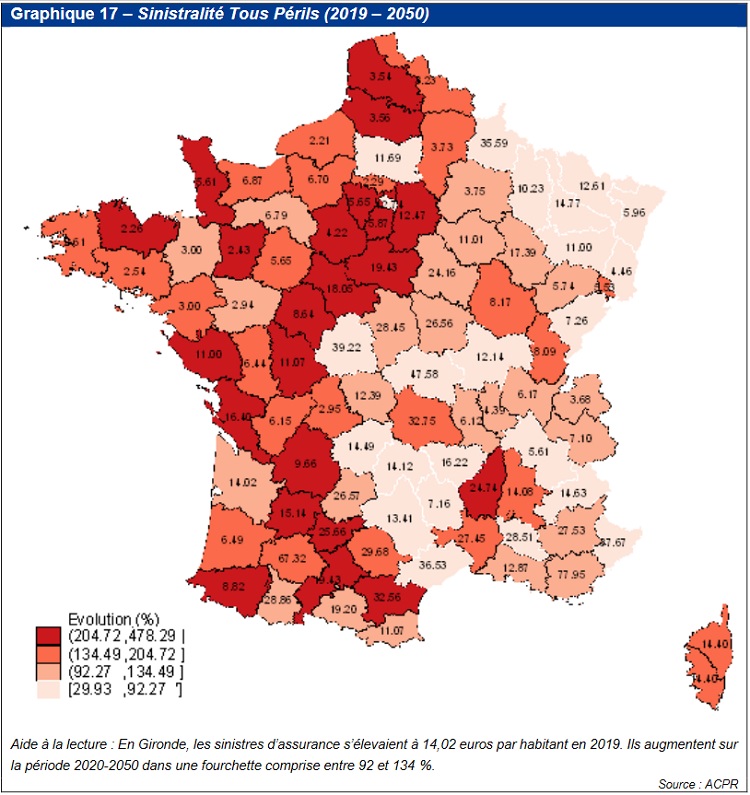 Insurers in France rely on a mutual fund for natural disasters, partly subsidised by the state, and tariff increases that are smoothed over time to cope with disasters.
This scheme for catastrophes naturelles, which has been in existence since 1982, is based on a mandatory contribution levied on each property and insurance policy. These contributions feed into a compensation fund managed by a public body, the Caisse centrale de Réassurance (CCR).
According to the models of the CCR, the financial balance of the system (unique in the world) is preserved at least until 2040, despite the increase in the frequency and the intensity of disasters.
A reform of the system of 'catastrophe naturelle' is currently making its way through the French parliament, but the changes only deal with eligibility requirements and administrative processes for the scheme, not with funding issues.
For the latest in-depth analysis, subscribe to our news service at France Insider.
France Insider is a subscription-based offer which has replaced our previous free Newsletter.