Living Standards in France Fall
Tuesday 02 June 2015
Living standards in France have fallen for the fifth year in succession, with the average household income now €19,740, according to a recent official study.


The report by INSEE, the French national statistical agency, shows that 10% of the population live on an average income of less than €10,610 a year, whilst the top 10% have an average income of at least €37,430 a year.

With the official definition of poverty set at 60% of the average income, that means some 8.5 million people in France (14% of the population) live below the poverty line of €8,540 a year, or €987 a month. Over 8% of the population live on less than €5,000 a year.

But it was not a bad year for everyone, for the position retired households living on inflation proofed pensions improved in 2012. The average income of a retired household was €19,950 a year, up from €19,890 in 2011. Nevertheless, over 8% of pensioners (1.1 million) live on an income below the poverty line.

The average income for self-employed persons was €23,150 a year, slightly down on that from 2011, which was €23,510. This group also contained 450,000 households who lived below the poverty line.

There are also significant geographic variations in average household income, as the table below shows.

Not surprisingly urban areas are richer than rural areas, but there are large swaths of comparatively urban areas of the country showing low average incomes. This is noticeably the case in Nord-Pas-de-Calais and Languedoc-Roussillon where incomes average less than €17,000 a year.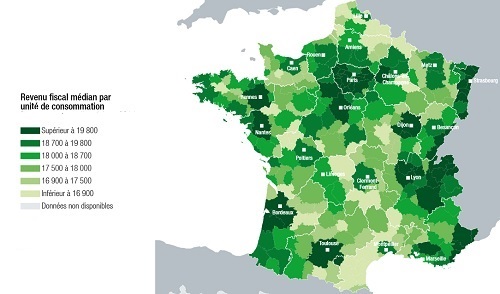 Related Reading:

This article was featured in our Newsletter dated 02/06/2015