False Promise of French Markets?
Wednesday 02 September 2015
There are many good reasons for shopping at a local French market, but lower prices and local produce cannot always be one of them.
There can be few expatriates or visitors to France who do not enjoy a visit to an open-air or covered local marché.

However, if you think you are going to necessarily bag a kilo of pommes for a low price then you may need to think again, for a recent survey showed that local markets are the most expensive outlets for fruit and vegetables.
According to the annual survey carried out by the consumer group Families Rurales, a basket of 16 summer fruit and vegetables costs an average of €51.84 in a French market, compared to €46.10 in a hypermarket and €44.60 in a low-discount store.
That is a difference of €7.24 between the low-discount stores and the local markets and €5.40 as against the supermarkets.
The result is one that has been consistently the same since 2010, although the gap is the lowest this year as prices in local markets have been falling whilst those in the low-discount stores have risen.
Of course, there will be geographical differences, with more attractive prices likely to be found in some areas, but the survey was carried out in one-third of the 96 departments of France, so is likely to be reasonably representative.
Although not in all cases, some of the best bargains on the markets are to be found sold by local growers themselves, who go to the market with their own produce. Not only the best prices, but frequently the best quality.

Even if you wished to take advantage of the produce in low discount stores you may well find some difficulty in doing so, as the stores have been losing their attraction in France over the past few years, with a large number having shut up shop.
They account for 15% of the market for fruit and vegetables, against 59% for the supermarket chains and 13% for the markets.
Arguably, the quality of the produce may well be better in local markets, but that does not necessarily mean it is produced locally, for the survey also found that around one-third of the produce found in the markets (as well as the stores) was from outside of France.
In the basket of 16 fruit and vegetables a slight majority of the same cheapest products came from outside of France. Foreign strawberries and cherries were noticeably cheaper than those from France, but there was little difference in the price in other produce.
The survey that was carried out concerned only summer fruit and vegetables, so a different result may well occur were the same survey to be undertaken over the winter period.
Perhaps the greatest comfort in all of this is that prices have remained stable (or actually fallen in real terms), as the following graphic illustrates. It shows the average price per kilo of fruit and vegetables since 2007.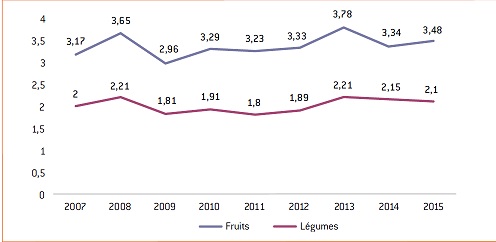 For the latest in-depth analysis of French property ownership and living in France, subscribe to our sister-site France Insider.
France Insider is a subscription-based offer which has replaced our previous free Newsletter.