New Euro coins that have been released are causing difficulties on the High Street, as some shops are refusing to accept them.
In July the Monnaie de Paris (the French Mint) placed in circulation a limited number of new €10 and €25 coins.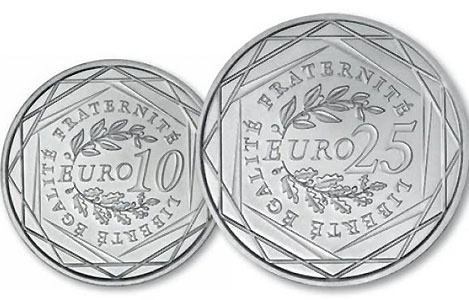 There has been very little publicity about the new coins, with the result that they are not being readily accepted in the shops.
Around 2 million €10 coins and 250,000 €25 coins in silver have been put in the market place.
As the coins are aimed primarily at coin collectors and the curious, the French post office La Poste has been given a monopoly in the distribution of the coins.

Customers at local post offices have been as surprised as shop owners to have been presented with the coins in their change by counter staff.
In a supermarket in the town of Limay in Yvelines recently, a cashier was so convinced that one of the coins was a forgery that she called her security staff, who in turn requested attendance of the local police.
The Monnaie de Paris state they are releasing the coins in order to encourage a larger market in France of coin collectors, following the example of Germany, Spain and Italy where the limited distribution of Euro coins has been made.
Last year the Monnaie de Paris released a limited collection of €5 and €15 and €100 euro coins, which will be followed later this year by the release of a €250 Euro coin in gold and in 2010 by the release of €50 and €500 Euro coins.
Beyond their basic monetary value, the coins are also developing a market value, with the €100 coin released last year already reported to be worth €180.
These coins have full legal currency in France (but not elsewhere), and shop owners are obliged to accept them. However, cashiers in supermarkets checkouts have been scratching their heads as to just where to place them in the till!