Price of Fruit and Vegetables in France 2019
A comparison of fruit and vegetable prices in France shows big differences between different stores and the markets.
In a recent study carried out by the French consumer body Institut national de la consommation, between 2018 and 2019 the price of a basket containing 1Kg of inorganic fruit went down from €31.25 to €30 (-4%) and from €61.40 to €56.70 (-8%) for organic produce, as shown on the graphic below.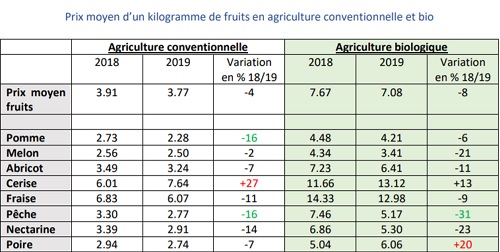 Over the same period, the price of a basket of inorganic vegetables rose from €18 to €19.80 (+10%) and from €33.45 to €34.10 (+2%) for organic farmed produce.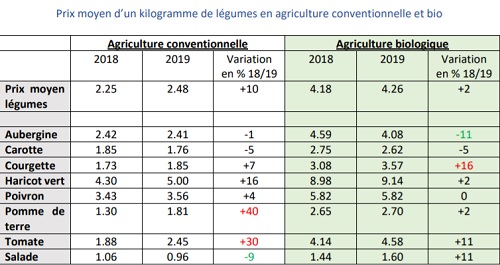 Not only were there were significant differences in the movement in prices between products, but also big differences between the outlets.

The average price of basket of 1 Kg of each fruit and vegetable was €42.34 in low-cost supermarkets, €51.33 in a hyper/supermarket, and €52.45 in the markets. The same basket purchased in a specialist organic store was €90.78.
Low-cost supermarket remain the most competitive on price, around 20% cheaper than markets and 18% less than super/hypermarkets.
The study did not evaluate the difference in quality between the different outlets.
According to the authors, to eat 5 fresh fruits and vegetables/day, a family of 4 people (2 adults and 2 children) would need to spend between €117 and €222 a month.
The study considered that whilst organic farming was on the rise it remained difficult to access for those on modest budgets. On average, the organic basket was nearly twice as expensive as its conventional counterpart.
The graphic below show the trend in prices for a kilo basket of fruit and vegetables, for inorganic and organic produce over the period 2010 to 2019.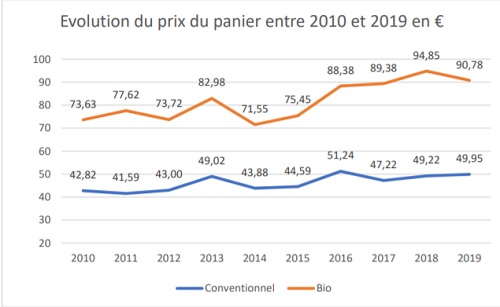 For the latest in-depth analysis, subscribe to our news service at France Insider.
France Insider is a subscription-based offer which has replaced our previous free Newsletter.