Removal Costs to France from the UK
Moving abroad comes with substantial costs on top of the purchase price of a new home, and for many the largest single item is the cost of removal of possessions.
Using data collected from households proposing to move to France from locations across the UK between August 2016 and August 2017, we analysed the removal costs for three different household types:
Those seeking to remove the entire contents of their home;
Those moving all items except large furniture;
Those moving only smaller personal items.
The analysis was carried out by bedroom size of the property, from 1 to 4 bedrooms, for journeys via Dover-Calais, from all destinations in the UK to all destinations in France.
Just under half (49%) of those looking to move to France aimed to take the entire contents of their home. Nearly a third (30%) of households only wanted to take smaller pieces of furniture and a few personal items. Only 21% asking for estimates for only personal items to be transported.
As can be seen below, the lowest average cost was £1,039, for only personal items from a 1-bed property, up to a maximum average cost of £3,423 for taking the entire contents of a 4-bed property.
There is a noteworthy difference in costs when leaving out the larger pieces of furniture as costs fall by as much as £700. The cost difference is due to larger items taking up more space and requiring more time and labour for loading and unloading.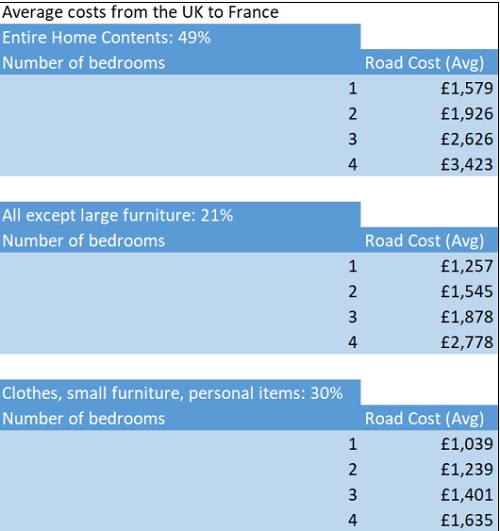 The data was obtained from quotes given to households proposing to relocate over the 12-month period, and in each instance an average has been taken. Specific costs for removals will vary based on a number of factors, including which removal company is used, and the distance to your new home. Clearly, if relocating from Scotland to Provence-Alpes-Côte d'Azur your actual costs will be higher than those shown in the table. Conversely, separate analysis shows that for a removal between London and Paris, using the same household typology above the cost varied between €725 and €1,672.
There will also be additional charges if you want to insure your possessions or if you want the removal company to pack for you. Insurance costs are generally a percentage of the overall value of the insured items. This can vary from between 1% to 5% of the total value of insured goods. The policies vary from only covering the loss of items (and not damage/ theft) to being completely comprehensive.
It is also possible to use 'part-loads' and 'groupage' shipping, when you will share a container's space with another household(s) and the cost is split between you both – rather than paying for a whole container and only using half of it. However, for smaller loads it is also possible to use vans or trucks, whose costs will be lower than a container lorry.
As always, price alone should not be the only factor to consider when choosing a removal company; the quality of the service and the security of your possessions are also likely to be important elements in the decision-making process.
Data provided by Nick Perman at

reallymoving

. Reallymoving is a UK price comparison site for moving services. They provide help to people who are moving across, to, and from the UK and have helped over 1.5 million movers in the past 18 years.

Related Reading
For the latest in-depth analysis, subscribe to our news service at France Insider.
France Insider is a subscription-based offer which has replaced our previous free Newsletter.