Sterling/Euro Exchange Rate Review Aug 2018
Thursday 06 September 2018
During August, the pound to euro exchange rate fluctuated between interbank highs of 1.1257 and lows of 1.0994 amid interest rate hikes and Brexit developments, writes Ben Scott of FC Exchange.
Interest Rates Up
The start of August saw a brief spike in the pound when on August 2nd the Bank of England (BoE) opted to hike interest rates above 0.50% for the first time since the Global Financial Crisis.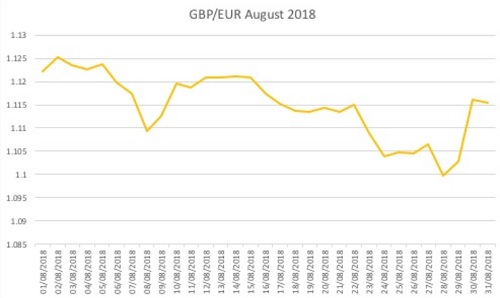 Investors long awaited the increase to 0.75%; interestingly the BoE has never before held rates at 0.75% since its inception in 1694. The same day as the hike also revealed British construction productivity had reached a 14-month pinnacle.
However, although a rate increase took place, the pound began to sink shortly after as investors digested comments from the central bank. The Monetary Policy Committee (MPC) warned that Brexit might dent the UK's economy, saying: 'The MPC continues to recognise that the economic outlook could be influenced significantly by the response of households, businesses and financial markets to developments related to the process of EU withdrawal.'
Additionally, the hike was rather dovish, and policymakers suggested that 'Any further increases in Bank Rate are likely to be at a gradual pace and to a limited extent.'
Market Jitters from Turkey and Brexit
Turkey's currency, the lira, was shaken in August as a dispute between Turkey and the US rattled markets. The euro also took some heat and fell by over 1.0% against the US dollar on August 10th to its lowest level in over a year after concerns rose that European banks would be exposed to the Turkish fallout.
Meanwhile, in the UK, the week ending the 10th August also saw the pound lose some ground, reaching 13-month lows versus the US dollar on comments from Liam Fox, suggesting a no-deal Brexit was more likely than not.

GBP/EUR reached a nine-month low on the 8th August on account of Brexit worries and BoE Governor Mark Carney saying the odds of a no-deal Brexit were 'uncomfortably high'.

Brexit continued to push the pound lower when the British government revealed it's no-deal Brexit plans on August 23rd which spooked markets. The sterling to euro exchange rate hit its lowest level in almost a year on August 28th in the region of 1.09.
Economic Data to Impact GBP/EUR
British growth in the second quarter rebounded by 0.4%, far better than the first quarter's 0.1% - a five-year low.

In the Eurozone, second-quarter growth was revealed to have been quicker than economists had predicted.

The Eurozone saw a surprise slip in inflation, falling from 2.1% in July to 2.0% in August. The ecostat offered the European Central Bank (ECB) an extra buffer in its plight to keep interest rates lower for longer.
Additionally, German consumer confidence slipped once again, coming in at 10.5 in September as opposed to the 10.6 expected by GfK, which produces the data. Despite this, economists expect that even though a decline in sentiment has taken place, private consumption in 2018 will rise by 1.5% and still make the forecast.
August 31st revealed that Eurozone unemployment had softened to 8.2% in July, down from the previous month's 8.3%. In less positive news, German retail sales sank from a healthy 2.7% on the year in June, to only 0.8% on the year in July after the month alone contracted by -0.4%.
GBP/EUR Exchange Rate Forecast
By the end of August, sterling had enjoyed a rebound as hopes that a no-deal Brexit might not come to pass rose. EU negotiator Michel Barnier said: 'We are prepared to offer Britain a partnership such as there never has been with any other third country.'

This gave hope that the UK may have a smoother transition and offered the pound some opportunity to rise. Global Reach Chief Economist Eimear Daly commented: 'The EU has a motive to reach an agreement with the UK and in the history of EU politics, an eleventh-hour agreement is usually reached. The Pound has traded at the mercy of negative Brexit headlines for too long.'
However, the pound to euro exchange rate could be in for a bumpy few months as Britain careers down the road to life outside of the EU with no plan established. The October Brexit deadline is now just over a month away, and after a summer recess, there seems to be more political disputes than before.

Investors will be looking for signs of a deal in order to buy or sell the pound. Should a good deal be made, sterling may have a substantial base to build upon. At present a no deal Brexit looks like a strong possibility and should Britain leave without a deal, need to undertake another referendum, or have further political instability, the pound could be ready to plummet.
Meanwhile, in the Eurozone, fears over Turkey's currency crisis and Italian political disruption has ebbed giving the euro some opportunity to climb.

Dovish comments from the ECB could pressure the single currency lower in coming months, as could another rise in geopolitical tensions. Investors will be carefully watching Eurozone data to see whether the ECB's lower for longer monetary policy path is justified.
Ben Scott
FC Exchange
For the latest in-depth analysis, subscribe to our news service at France Insider.
France Insider is a subscription-based offer which has replaced our previous free Newsletter.