Sterling/Euro Exchange Rate Review August 2019
Tuesday 10 September 2019
The Pound to Euro exchange rate opened and closed August at similar levels, starting the month in the interbank region of €1.09, and closing at €1.10, writes currency specialist Ben Scott of Global Reach.
However, there were some dips to €1.07 to hit two-year lows on political developments, like British Prime Minister Boris Johnson threatened to call an election.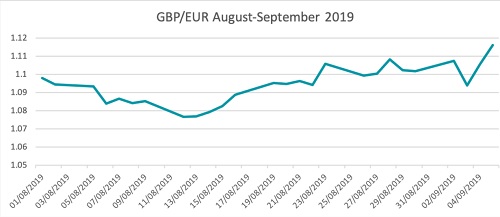 Also weighing on the Pound was the revelation that second-quarter growth had contracted for the first time since 2012, putting more pressure on the British government to find a solution to Brexit.
If UK growth contracts for another quarter, the UK will be in a technical recession.
While things might not be so bright in Britain, Germany, the Eurozone's largest economy, is also having problems.
The start of September has revealed German industrial output sank unexpectedly, adding to a growing list of problems for manufacturers. Germany is export-reliant, meaning these recent data prints could signal a recession in the third quarter.
The European Central Bank (ECB) will meet on the 12th September to discuss monetary policy, and it seems as if policymakers are divided on what to do.
Tensions between the US and China in recent years have been impacting the global economy too, with the Eurozone being a prime example.
Central banks across the world have been cutting interest rates or providing stimulus, and the question now remains what the ECB might do with a mixed bag of opinions from policymakers.
When the prospect of cutting rates further into the negative is firmly on the table, the ECB will have to consider the impact and effectiveness of previous cuts to the deposit rate, which resides at -0.4%. Further rate cuts could give the Euro another reason to weaken.
In terms of GBP/EUR currency movements, in the past month at its strongest levels, the Pound has climbed by around 4.0% against the Euro.
The first week of September has shown a lot of choppy trading, with Sterling falling on the 3rd as Parliament resumed after its summer recess, before rallying over the next few days as MPs took action to block a no-deal Brexit.
Although economic data has been lacklustre, British politics are the main driver for the Pound exchange rate, and so markets will be paying close attention to any changes—whether it be the potential for a snap election, an extension to the Brexit deadline, or any more stumbling blocks for Boris Johnson.
If you'd like to make an overseas currency transfer and want to speak to an expert, contact Global Reach on +44 (0)20 7989 0000 or visit Global Reach.
Ben Scott
Global Reach
For the latest in-depth analysis, subscribe to our news service at France Insider.
France Insider is a subscription-based offer which has replaced our previous free Newsletter.