Pound Euro Exchange Rate Experiences Volatility
The Pound to Euro exchange rate had a volatile month in February, trading between levels of €1.15 and €1.20, writes currency specialist Ben Scott of Global Reach.
While the start and the middle of the month were quite strong, the end of the month saw Sterling decline—something that's continued into the beginning of March with GBP/EUR reaching levels of €1.14.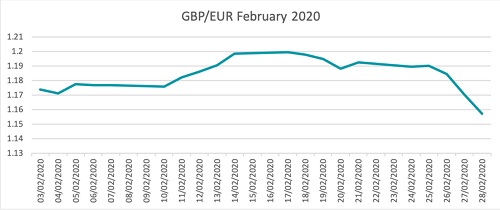 The Pound slipped around the 27th of February as Boris Johnson rattled markets with Brexit threats once again, suggesting he'd walk away from negotiations in June should no progress be made.
Johnson's comments are likely an attempt to stop the EU from running down the clock until the end of the year, but puts the possibility of a hard Brexit firmly back on the table.
In the last week of February, the Pound slipped by 4.0% against the Euro, effectively losing all the gains it made in the run-up to the December general election.
The Euro had quite a positive February, climbing not only against the Pound but also the US Dollar, regardless of the coronavirus outbreak. Despite hitting its lowest level versus the US Dollar since April 2017 on February 20th—while also weakening against the Pound—the Euro staged a rebound, climbing by around 3.0% by the end of the month.
Investors are now beginning to look at interest rates across the globe as many central banks begin to take pre-emptive measures to offset the impact of the coronavirus.
The European Central Bank has less room to move in terms of interest rates, given it's already in negative rate territory. Upcoming ECB meetings could be interesting, but equally, other central bank developments could give the Euro some opportunity to move.
While central banks across the world are leaping into action, the ECB has suggested there's need for 'cool heads', relieving investors of concerns of immediate action.
Usually the Euro would retreat in times of market stress and uncertainty—such as the coronavirus outbreak—but the common currency appears to be breaking all usual trends to climb close to its strongest levels of 2020.

Meanwhile, the Pound could be set for a tumultuous year with Brexit negotiations now officially underway. Back and forth between the EU and UK will likely be a staple for British media, which could impact the way Sterling trades.

In terms of monetary policy, the Bank of England has ruled out any immediate action, but investors will be closely watching growth and other fundamental data to see how the UK is performing amid the ongoing coronavirus spread, and the impact on the global economy.
If you'd like to make an overseas currency transfer and want to speak to an expert, contact Global Reach on +44 (0)20 7989 0000 or visit Global Reach.