Sterling endured sustained losses during most of January against the euro, as fears of a triple dip recession gripped the UK economy, writes Ben Scott.
Sterling started the New Year with rates as high as €1.2334 (interbank) on 4th January, before a continual decline throughout January saw it reach a low of 41.1645 (interbank) at the end of the month, trading at an average rate of €1.2066 during January 2013.
With mounting concerns about the UK economy, alarm surrounding the embattled European economy was largely negated by positive comments and sentiment from European leaders suggesting the worst of the debt crisis was behind them.

Sterling's decline of 5.21% in January alone against the Euro continues to cause great concern amongst euro buyers, as illustrated on the graph below.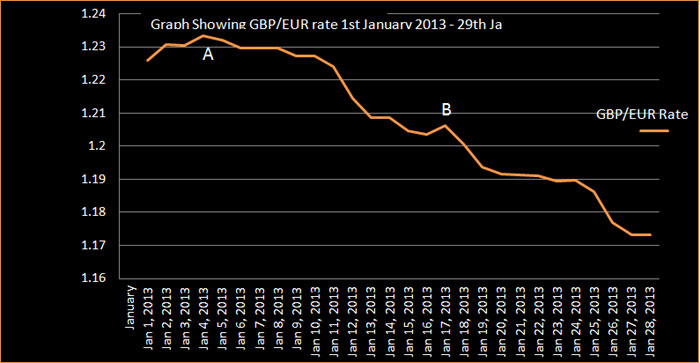 The sharp decline in the GBP/EUR rate after Point A came amid a barrage of negative economic data releases in the UK, which included a decline in manufacturing and construction figures whilst the first drop in two years for the UK service sector compounded concerns of an unprecedented triple dip recession threatening the UK's much revered AAA credit rating and forcing Sterling lower.
In a period when euro fundamentals showed limited signs of improvement, it actually outperformed most currencies, particularly Sterling, on the back of positive sentiment from European leaders and policy-makers, with European Central Bank member Nowotny claiming "panic in the market over the euro is over", providing optimism for the euro going forward.
Significant weakness for Sterling (from Point B on the graph) resulted from concerns that the UK economy would contract in Q4 2012 and therefore put it on the brink of entering a triple dip recession, ('recession', by definition, is two quarters of back-to-back contraction of a country's GDP).
Economic contraction in Q4 2012 was confirmed on 25th January. Official data showed GDP figures for that quarter came in markedly worse than expected showing contraction of -0.3%, sending Sterling sharply lower to a 52-week low, of €1.1645 (Interbank) against the euro.
Outlook

Numerous factors will determine the future direction of GBP/EUR exchange rates in the short to medium-term.



However, there seems little potential for Sterling to make gains while the UK is subjected to the on-going toxic combination of negative growth and high debt, which could lead to a downgrade of the UK's credit rating, and growing concerns that GBP/EUR rates could be set for further lows that will test the €1.1008 (interbank) levels of resistance set on 1st July 2011.

Meanwhile the collapse of major high-street chains such as Jessops, HMV and Blockbusters paints a bleak outlook for the UK economy.

Despite European Central Bank President Mario Draghi and European leaders successfully alleviating concerns surrounding the European economy and the on-going debt crisis, economic data from the Eurozone remains extremely negative, as illustrated by the IMF last week when it downgraded the growth forecast for the Eurozone from 0.1% to -0.2% contraction, before warning "the Eurozone continues to pose a large downside risk to global outlook".

Positive rhetoric such as comments from Mario Draghi that the "Darkest days over Europe have subsided", may well prove overly optimistic as exceptionally high unemployment and weak economic growth warns of potential weakness for the euro to come.

Ben Scott
Foreign Exchange Ltd
www.fcexchange.co.uk