Sterling/Euro Exchange Rate Review Jan 2020
It's been a volatile start to 2020 for the Pound, trading between interbank levels of €1.16 and €1.19 against the Euro in January, writes currency specialist Ben Scott of Global Reach.
Comments made by Bank of England Governor, Mark Carney, earlier in the month saw the Pound fall by around 0.5% versus the Euro as investors priced in the possibility of an interest rate cut. Market forecasts for a rate decrease varied throughout the month, from zero to certain, which contributed toward Sterling movement.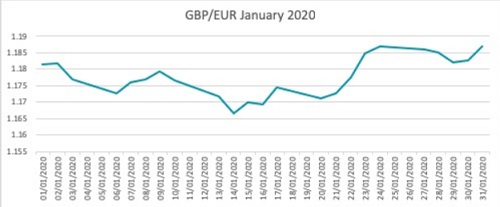 As the month progressed, UK data was released showing inflation had hit its lowest level in over two years in December, which raised market expectations for a rate cut.
In positive news, the UK housing market reported a rebound following the December election.

In the Eurozone, the common currency experienced a rebound after the European Central Bank released its minutes from its December meeting, striking a more upbeat tone with new appointment, Christine Lagarde. Although policymakers agreed that risks to economic growth remained tilted to the downside, the central bank said, 'these risks had become somewhat less pronounced'.
At the end of January, Sterling was climbing after the Bank of England made the decision to keep interest rates on hold. The Monetary Policy Committee voted 7-2 to pause rates at 0.75% for another month, and in the following days the Pound was able to climb against both the US Dollar and the Euro.
However, the first day of UK trading in February saw Sterling take a tumble over a percent lower against both the US Dollar and Euro as Brexit fears came back into focus.
Recent data has left the Eurozone economy looking slightly lacklustre, with only minimal signs of growth at the end of 2019. Both France and Italy registered a contraction in growth, which caused the Eurozone reading to hit its weakest level in almost seven years.
Moving forward, Brexit is likely to be the key influencer in Pound movement, with all eyes on the government to achieve a deal by the end of the year. If there's a hint that the UK may not attain an agreement by the close of 2020 it could put heavy pressure on the Pound as Britain would need to fall back on World Trade Organisation rules which would see more tariffs introduced. Credit rating agency Moody's Analytics suggested the UK's rating could be at risk should both sides be unable to reach a deal.
Meanwhile, Eurozone data remains in focus, especially from larger individual members such as Germany. The European Central Bank has begun its first strategic review of monetary policy in 16 years, designed to measure the effectiveness of tools and how they're delivered.
If you'd like to make an overseas currency transfer and want to speak to an expert, contact Global Reach on +44 (0)20 7989 0000 or visit Global Reach.
For the latest in-depth analysis, subscribe to our news service at France Insider.
France Insider is a subscription-based offer which has replaced our previous free Newsletter.