Sterling/Euro Exchange Rate Review July 2018
The pound to euro exchange rate ranged between interbank levels of 1.11 and 1.13 last month, as markets digested economic data and prepared for higher UK interest rates, writes Ben Scott of FC Exchange.
16 Weeks and Counting
The opening of Qtr3 began the 16-week countdown to the October Brexit deadline. In recent months, progress has been jittery at best, but the start of July saw the pound enjoy an upswing to 1.1342 as Theresa May managed to get her government to agree on a Brexit plan.
The 9th July saw sterling briefly jump to 1.1345 when David Davis resigned as markets hoped a softer Brexit would occur.

However, the surge was short-lived, and sterling soon tumbled lower as Boris Johnson resigned as well and political certainty increased.

Theresa May managed to bolster the British currency once again on the 24th July when she announced she'd be taking charge of Brexit talks herself, essentially side-lining newly appointed Brexit secretary Dominic Raab.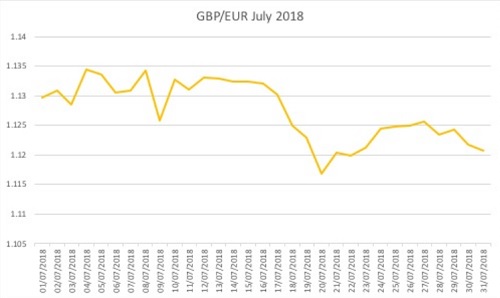 Data Upswing
The UK service sector reached an eight-month high in June, with the 'Markit' purchasing managers' index (PMI) coming in at 55.1, safely above the 50.0 benchmark which separates expansion from contraction. '
The UK construction sector also noted a rebound, with the annual production figure reaching 1.6%, instead of remaining in contraction territory as economists had expected.

As a result of the better data, markets began to price in an almost certain chance of the Bank of England (BoE) hiking interest rates in August.
The Eurozone had a mixed month for figures, but industrial production certainly enjoyed a boost, rising from 1.7% to 2.4% on the year in May, just slightly above the 2.3% expectation.

In less positive news, the French growth figure dipped dramatically on the year from 2.2% to 1.7%, when second quarter growth printed at only 0.2%.
Inflation Bites
The start of the month was going well in terms of British economic data, but the middle of the month saw sterling slip.

By the 23rd of July, the GBP/EUR exchange rate had weakened to levels of 1.1167, and the pound had slipped from 1.32 to 1.29 versus the US dollar (GBP/USD).

The UK's core consumer price index (CPI) stumbled lower from 2.1% to 1.9% in June, and retail sales also took a hit, declining from 4.5% to 3.0%.

Meanwhile, the Eurozone inflation number took a smaller decline, from 1.0% to 0.9% on the year in June.
GBP/EUR Exchange Rate Forecast
The pound to euro exchange rate is likely to be influenced by a lot of political events and economic data, but central bank developments are expected to be on the back-burner for a while.

The BoE opted to hike interest rates at the start of August, but it was a dovish rate hike. Surprisingly, the vote was unanimous, and with Brexit expected to dominate the headlines in coming months, many saw it as the BoE's last chance to hike.
The minutes read: 'Recent data appear to confirm that the dip in output in the first quarter was temporary, with momentum recovering in the second quarter. The labour market has continued to tighten, and unit labour cost growth has firmed. The MPC continues to judge that the UK economy currently has a very limited degree of slack. Unemployment is low and is projected to fall a little further.'
The BoE confirmed that it would be a while before it considered hiking rates again and so market speculation over the Bank's monetary policy will likely ease as investors focus on more immediate matters, like Brexit.

Moving forward, news of progress ahead of the October deadline will probably be a key influence for the pound and markets will be interested to see how UK economic data reacts following the Bank of England's interest rate rise.
During the follow-up press conference, BoE Chief Mark Carney suggested that another rate cut could be necessary depending on how Brexit plays out, stating: 'There are a wide range of Brexit outcomes, but in many of them interest rates will be at least as high as they are today. We don't need to keep our powder dry for that. There are certain circumstances where it would be appropriate to either keep rates the same or lower them. If that's the case, that's what the MPC will do.'
Meanwhile, the European Central Bank (ECB) has been striking a dovish tone with comments of late, and Chief Mario Draghi has suggested that interest rates will remain low 'through' the summer of 2019, giving little for markets to be excited about. The Bank suggested the current monetary policy guidance should be viewed as 'open-ended'.
Ben Scott
FC Exchange
For the latest in-depth analysis, subscribe to our news service at France Insider.
France Insider is a subscription-based offer which has replaced our previous free Newsletter.