Sterling/Euro Exchange Rate Review Nov 2018
November was a volatile month for the GBP/EUR exchange rate with Brexit developments creating many twists and turns, writes Ben Scott of Global Reach.
In November, the Pound recorded its worst one-day loss against the Euro since October 2016 as Brexit bit once again.
A slew of British politicians resigned in protest of Theresa May's Brexit agreement which raised fears that Britain's exit from the EU would be chaotic. Brexit Secretary Dominic Raab resigned on 15th November, saying he couldn't support the proposed withdrawal agreement, along with other ministers, and the GBP/EUR exchange rate slipped from interbank levels of 1.14, to 1.12.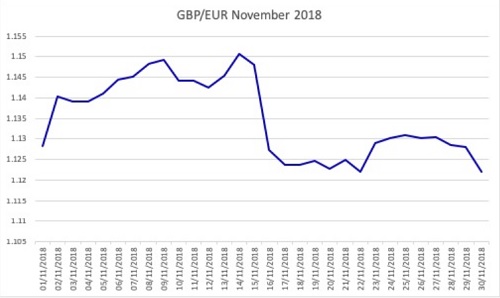 On the 13th November, GBP/EUR had hit its highest level of the month so far in the region of 1.15. When the resignation news hit, investors sold Sterling to buy safe-haven assets such as the US Dollar and Japanese Yen.
However, the Pound managed to surge sharply on 22nd November when details of a draft political declaration detailing the UK and EU's future relationship was released.
Meanwhile, the Eurozone has been experiencing problems of its own, and there's potential for some political volatility in coming months. French President Emmanuel Macron seems to be coming under pressure of late.
Macron attended the G20 meeting in Argentina at the end of November but was greeted by the 'yellow vests' anti-tax protesters on his return home. The weekend protests saw violent clashes with police, and damage to property and buildings.
French politician Valerie Pecresse said that the French capital couldn't take 'a third weekend of chaos' and suggested that although security had been 'inadequate', the nation shouldn't have to declare a state of emergency to maintain order.
The weekend protest in Paris saw over 400 people arrested, and another 100 injured. Pecresse said: 'There is of course a right to demonstrate, but there isn't a right to take a capital city hostage. We need to take the measures necessary to restore order.'
Meanwhile, the start of December saw the Spanish far right-Vox party win its first representation in a regional election.

In positive political news, Italy seems to be making steps toward a compromise with the EU over its budget.

Some Euro to Pound (EUR/GBP) movements last month were inspired by news on Italy, and if an agreement could be reached soon, it might quell any remaining concerns.
Economic Data
Recent Eurozone data has largely suggested the currency bloc could be experiencing a slowdown. Easing growth could place more pressure on the European Central Bank (ECB) as it attempts to wind down its extraordinary asset purchase programme which has bolstered the economy.

Eurozone business growth slowed more quickly than economists had expected in November, while German private-sector credit slipped to its weakest level in almost four years.
On the 14th November, data showed Germany, the Eurozone's powerhouse economy, registered -0.2% growth in the third quarter, below the previous quarter's 0.5% and the forecast -0.1%. The reading was also the lowest since 2015. On the year, the non-seasonally adjusted German Gross Domestic Product figure came in at 1.1%, down from the previous 2.3% reading. Eurozone growth also printed at 0.2% in the third quarter, while holding steady at 1.7% on the year.
In other developments, recent data showed that British workers have experienced the worst real wage growth of all G20 nations since the Global Financial Crisis in 2009.
The International Labour Organisation (ILO) shows Britain has sat below nine other wealthy nations since 2009 for pay. Global wage growth reached its weakest level in almost ten years in 2017.
The recent G20 meeting offered some relief for those concerned about the impact trade wars might have on US wages, as China and the US have been able to reach a temporary truce.
GBP/EUR Exchange Rate Forecast
In coming months, Brexit is likely to be the primary motivation for GBP/EUR exchange rate movement. The vote on Theresa May's Brexit deal on December 11th could cause some significant market fluctuations.

Theresa May's leadership would likely come into question, and the Labour Party could take the opportunity to attempt to topple the government.
There could be another referendum or snap election, not to mention a severe amount of political uncertainty which could cause problems for the Pound exchange rate. Amid all of this, investors will be looking at the Bank of England's guidance on monetary policy, and the forecasted economic impact of Brexit.
Economic data for the Eurozone could be significant for the single currency, especially as the ECB attempts to end its economic stimulus measures.
Any change in tact from the central bank could cause some Euro movement, and more weak economic data from the currency bloc could refresh fears that Eurozone growth may be in trouble.
Politics in Italy also have the potential to flare up again ahead of the European elections next spring, which could be another source of market movement.
Ben Scott
Global Reach
For the latest in-depth analysis, subscribe to our news service at France Insider.
France Insider is a subscription-based offer which has replaced our previous free Newsletter.