Pound Registers Highs as Election Looms
The Pound to Euro exchange rate traded between interbank levels of €1.15 and €1.17 in November while markets waited for the upcoming general election, writes currency specialist Ben Scott of Global Reach.
At the start of the month, Sterling came under pressure when the Bank of England decided to keep interest rates on hold, but not unanimously. For the first time since June 2018, policymakers were divided, with two voting in favour of a rate cut.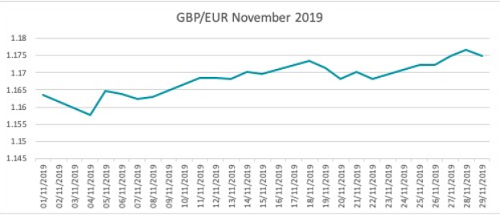 Despite suggesting that the short-term UK economic outlook had improved given the lesser risk of a no-deal Brexit, the central bank downgraded growth forecasts for the next several years.

Third-quarter UK growth figures were also released at the start of the month, showing the slowest annual growth rate since 2010, coming in at only 1.0% in Q3 on the year, down from 1.3% in Q2.

Meanwhile, the Euro came under pressure from persistently weaker economic data.
As the middle of the month approached, Sterling hit six-month highs versus the Euro on optimism that a Conservative Party win could occur in the upcoming election. Such a result is seen as largely positive by markets in a bid to speed up Brexit and remove the chance of a no-deal scenario.

Throughout the month of November, political headlines dominated a lot of the market's attention. The Labour and Conservative leaders faced off in their first head-to-head with follow-up polls unable to find a clear winner. However, Sterling strengthened as the month came to a close as opinion polls showed the Conservatives maintaining a healthy lead.

The Euro dropped to a seven-month low against the Pound, and hovered near a two-month low against the US Dollar, despite positive inflation numbers from the bloc.
As December gets underway, the Pound has been riding the election positivity wave, achieving its highest levels against the Euro since May 2017, and against the US Dollar since May 2019.

Despite this, economic fundamentals are not out-performing, something largely attributed to Brexit uncertainty. Eyes will be on the Bank of England's upcoming monetary policy meetings to see whether more policymakers are leaning towards a rate cut, as well as how quickly Brexit could be concluded following the general election.
If you'd like to make an overseas currency transfer and want to speak to an expert, contact Global Reach on +44 (0)20 7989 0000 or visit
Global Reach
.
For the latest in-depth analysis, subscribe to our news service at France Insider.
France Insider is a subscription-based offer which has replaced our previous free Newsletter.