Sterling/Euro Exchange Rate Review Oct 2018
Wednesday 07 November 2018
The pound to euro exchange rate had a bumpy ride in October, mainly influenced by Brexit developments, writes Ben Scott of Global Reach.
A step up for Sterling
It was a bright start to the month for the Pound to Euro (GBP/EUR) exchange rate in some respects. While the GBP/EUR currency pair started the month around the 1.11 interbank region, it was soon able to break through to 1.13, and a few days later rose again to reside above 1.14.
Another spike in the GBP/EUR exchange rate occurred on October 16th, when UK wage growth data came in at a nine-year high. The Pound jumped against other currency majors as wages rose to 3.1% in the three months through August on the year. Basic wage expansion also managed to accelerate to its best level since the Global Financial Crisis. The UK Unemployment Rate remains at a 43-year low.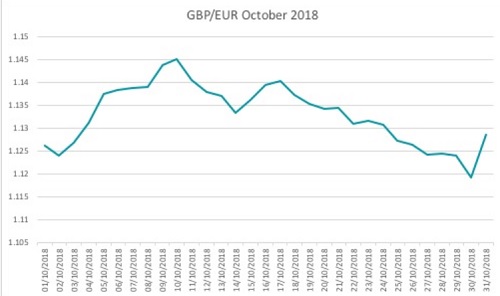 Breaking below
However, it wasn't all rosy for Sterling. A lot of the Pound's movement last month was dictated by Brexit and the news that a deal hadn't been reached by the original October deadline. With the lack of a November summit, as it was deemed not enough progress had been made, the Pound was less resilient. Adding to the pressure was news that UK Retail Sales had fallen. On October 19th it had become clear that sales had contracted by -0.8% in September, a bigger-than-forecast decline. By the 27th October, Sterling broke below the 1.12 barrier, reaching a three-week low as Brexit uncertainty weighed on the British currency causing a slump.
At the end of the month, things changed, and the Euro exchange rate was the one under pressure. On Halloween, the Euro was spooked, and the Pound was able to climb against the single currency when growth in the Eurozone dropped to their lowest levels in over four years. Stagnation in Italy helped to drag down expansion, with the rate of growth coming in at only 0.2% in the third quarter. There could be more problems ahead too. Italy registered no growth in Q1 amid a new populist government taking over, and there's the opportunity the nation may experience its third period of recession in a decade.
Eurozone political fears rock EUR
Alongside the Italian budget debate, the Eurozone powerhouse, Germany, is now facing political uncertainty too. Chancellor Angela Merkel announced she wouldn't be running for another term, but with a number of politicians putting their name in the ring to be her successor, it's possible there may be some leadership tensions that may even pose a threat to Merkel finishing her current mandate.
Surprisingly, another factor supporting the Pound at the end of the month was Brexit. Brexit Secretary Dominic Raab suggested that the EU withdrawal agreement could be finalised within a matter of weeks by November 21st. Although, it's worth noting Brussels' response was a little muted in comparison. There were also reports that Theresa May could give financial services companies access to the EU following Brexit which helped to bolster the Pound.
GBP/EUR Exchange Rate Forecast
At the start of November, the Bank of England (BoE) opted unanimously to keep interest rates on hold. The decision was predictable, given the ongoing Brexit uncertainty, but comments from BoE Governor Mark Carney and other policymakers could be very influential for Sterling in the near-term. However, Brexit is the Pound's main driver. Carney has stated that a disorderly Brexit could potentially push the BoE to hike interest rates to balance the exchange rate and the economy. Despite this, it's worth wondering if these comments have been made in a bid to focus minds in Brussels and Westminster. If a deal can't be made this side of Christmas, Sterling might be in for some heavy losses.
Meanwhile, politics are likely to keep causing problems for the Euro too. The way the Italian/European Council conflict unfolds will be interesting for investors in the common currency, as well as upcoming growth figures and developments in German domestic politics. Key statistics to watch for will be UK inflation and wage data, as well as growth numbers. Similarly, for the Euro, growth figures will be under scrutiny moving forwards as investors look for the political impact on ecostats.
If you'd like to find out more about sending your money abroad amid Brexit volatility, visit globalreachroup.com or call +44 (0)20 7989 0000.
Ben Scott
Global Reach
For the latest in-depth analysis, subscribe to our news service at France Insider.
France Insider is a subscription-based offer which has replaced our previous free Newsletter.