Sterling/Euro Exchange Rate Review Sept 2018
The pound to euro (GBP/EUR) exchange rate traded between interbank levels of €1.1059 and €1.1292 in September as Brexit continued to fuel sterling movements, writes Ben Scott of FC Exchange.
September began with upheaval; Boris Johnson catalysed more Conservative Party infighting giving more fuel to the UK's political uncertainty.

Additionally, the Trades Union Congress (TUC) suggested it would back a second referendum should Theresa May not deliver a deal that benefits workers.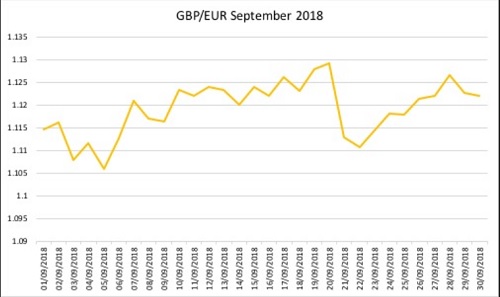 Date and Developments
On 10th September sterling rallied against other majors after UK growth numbers surprised to the upside, and allowed GBP/EUR to jump above the 1.12 level. The UK's Gross Domestic Product (GDP) figures for the three months through July were 0.6%, a more favourable reading than the previous 0.4% and 0.5% forecasts. Additionally, the UK's trade deficit hit its lowest level since February at £9.97bn.

Comments from EU chief negotiator Michel Barnier also gave sterling some support at the start of September. Barnier even intimated that his stance on the Irish border, one of the more difficult aspects of the Brexit negotiations, had eased.
Eurozone consumer confidence took a dive in September. Economists had expected a small change from -1.9 to -2.0, but instead the ecostat fell further into contraction at -2.9.

In positive news, European Central Bank (ECB) Chief Mario Draghi said that inflation risks in the currency bloc were receding. The central bank is still expected to begin ending its asset purchase programme at the end of the year, despite some mixed ecostats.

Meanwhile, at the Bank of England (BoE), Governor Mark Carney announced in September that he'd be extending his term as head of the central bank. Governor Carney will now remain in his current position until the end of January 2020, in a bid to continue his work while the economy copes with the Brexit outcome.

Carney warned that a 'no-deal' Brexit could create a UK recession, and house prices could decline by up to 35%. On September 14th, the central bank mogul said that mortgage rates could spiral, sterling could slump, and inflation may jump, should a disorderly Brexit take place. Stress tests for banks have also been ongoing to check that they could withstand different Brexit scenarios. Carney said: "
Our job, after all, is not to hope for the best but to plan for the worst."
In the middle of September, the pound put in a dreadful performance when a no-deal Brexit possibility reared its head again. The week commencing 17th September, sterling had managed to reach two-month highs against the US Dollar (GBP/USD), and was even the second-best G10 currency performer on Monday. Things took a turn for the worse on the 21st September, and the pound marked its biggest daily loss of 2018 in response to Theresa May's press conference.

Theresa May's embarrassment in Salzburg didn't help the pound, and her resulting press appearance, where she once again stated that no deal was better than a bad deal, was enough to sink the British currency. May said: "
The EU should be clear, I will not overturn the result of the referendum, nor will I break up my country. We need serious engagement in resolving the two big issues in the negotiations and we stand ready. I have treated the EU with nothing but respect. The UK expects the same."
GBP/EUR Exchange Rate Forecast
The end of September brought with it Italian troubles. The new Italian government announced a larger-than-anticipated budget deficit, which raised fears that they may on a collision course with the EU.

Global Reach Chief Economist Eimear Daly also stated:
"GBP/EUR trade is dictated by politics on both sides of the English Channel. GBP continues to be at the mercy of Brexit headlines, while the short-term focus for the EUR is Italy's rebuke of Euro Area national budget targets.'"
Meanwhile, October highlights the Brexit deadline both sides have put in place for a final agreement to be met, but with so little progress on a final deal and May still threatening no deal, it's possible sterling fluctuations could be dramatic and unpredictable.

Reports have suggested Tories will try and rush through the deal to prevent a leadership challenge; markets will be watching closely. Eimear Daly states:
"Over the course of October GBP/EUR trade is likely to be highly volatile."
The overall direction of GBP/EUR is likely to be lower, towards the €1.10 level, as a hard Brexit is by far the bigger political risk.
In terms of economic data, on 28th September the final UK second-quarter GDP reading disappointed markets coming in at 1.2% rather than 1.3% as expected.

So markets will be interested in forecasts for the third quarter's growth, as well as inflation readings. Key data such as GDP and consumer prices will be considerations for the BoE's monetary policy committee, but with Brexit just around the corner, policymakers will be incredibly hesitant to make any adjustments.

Ben Scott
FC Exchange
For the latest in-depth analysis, subscribe to our news service at France Insider.
France Insider is a subscription-based offer which has replaced our previous free Newsletter.