Sterling/Euro Exchange Rate Review September 2019
Last month, the Pound to Euro exchange rate traded between interbank levels of €1.10 and €1.13 as the currency reacted to Brexit, waning economic data, and central bank action, writes currency specialist Ben Scott of Global Reach.
Sterling climbed higher on each stumbling block that appeared for Boris Johnson, while one of the main headlines for the Euro in September was the much-anticipated decision by the European Central Bank to cut interest rates even further into negative territory and provide further monetary stimulus in the form of quantitative easing.
Meanwhile, a Bank of England policymaker suggested that the UK may see lower interest rates whether a Brexit agreement is made or not.
The move lower for the Euro is hardly surprising given a recent slowdown in Eurozone data and recent indicators suggesting the powerhouse of the bloc, Germany, could be entering a technical recession by the third quarter. Germany's manufacturing sector recession is only worsening, business expectations have reached their lowest level in a decade, and factory orders have registered 15 months of declines on an annual basis.
The data is reflecting a decline in economic prospects in the Eurozone on account of Brexit and the ongoing US-China trade war, both of which are denting economic growth.
October has brought the Brexit deadline into sharp focus once again as the UK counts down the days until the 31st October.
Boris Johnson has unveiled his latest Brexit plan, while remaining adamant that the UK will leave this month with or without a deal, despite recent law suggesting the Prime Minister must ask for an extension if no agreement is reached.

Markets have forecast an extension to be granted at the October 17th-18th EU Council meeting, but Johnson wishes to seek a Supreme Court ruling on a no-deal departure.
While Johnson will find out what the penalty could be for flouting the Benn Act this week, the EU could also respond to Johnson's deal in coming days and be another source of GBP/EUR movement.
The Pound to Euro exchange rate has been ranging between levels of 1.11 and the higher end of 1.12 so far in October, but with more political volatility forecast, the Pound to Euro currency pair could remain reactive to news headlines, and pay less attention to economic data.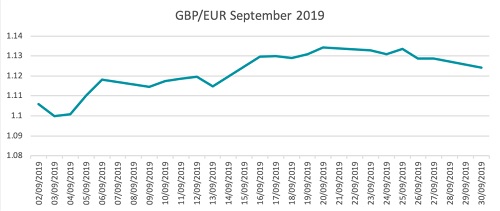 If Johnson can get a deal agreed, Sterling could have the potential to jump; however, if the Prime Minister opts to push the UK into a no-deal Brexit, the Pound could shed its value significantly and leave the future of British politics uncertain.
If you'd like to make an overseas currency transfer and want to speak to an expert, contact Global Reach on +44 (0)20 7989 0000 or visit Global Reach.
Ben Scott
Global Reach
For the latest in-depth analysis, subscribe to our news service at France Insider.
France Insider is a subscription-based offer which has replaced our previous free Newsletter.