August saw GBP/EUR trading in a tight, yet volatile range, says Ben Scott.
Speculation surrounding the timing and form of any quantitative easing (QE) from the European Central Bank (ECB) continued as Eurozone data again failed to gain any form of momentum, weighing heavily on the euro.
However, mixed data from the UK and a confused outlook from the Bank of England (BOE) denied Sterling the opportunity to add to recent gains.
Euro buyers will be concerned by the lack of Sterling gains during August, despite two members of the BOE Monetary Policy Committee (MPC) breaking rank and voting for an immediate interest rate hike. This was the first occasion since July 2011 that any member of the MPC called for higher interest rates marking a "symbolic breaking of the Carney consensus", according to Ross Walker an economist at Royal Bank of Scotland.

An initial GBP/EUR high of 1.2632 (interbank throughout), was followed by a period of volatility resulting in a low of 1.2443 as illustrated by point C on the graph, trading at an average rate of 1.2530 throughout August.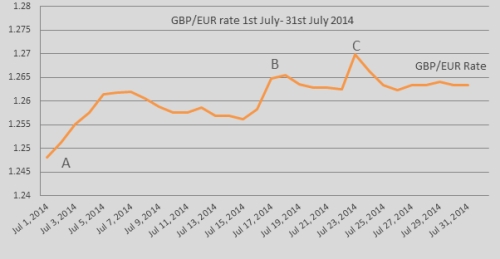 Sterling continued its slide coming into August, still reeling from comments from BOE member, Ben Broadbent, and the IMF that the pound could be up to 10% overvalued.
Disappointing construction, manufacturing and consumer confidence figures added to Sterling's decline from point A as concerns that the UK economic recovery was stagnating gathered pace, removing any lingering pressure on the BOE to raise interest rates this year.
Comments from ECB President Mario Draghi again acted as the catalyst for euro weakness, allowing GBP/EUR to reclaim lost ground (point B).
Despite the ECB deciding once more to delay the introduction of QE, Mario Draghi was again keen to talk down the value of the euro stating that, "latest data shows slowing of growth momentum". The key statement from Mario Draghi, however, was that the ECB was "accelerating preparatory action on ABS (Asset Backed Securities) purchases", providing another clear indication that the introduction of QE in some form is imminent - leading to significant euro weakness.
There is no denying the UK remains on the road to economic recovery, a point supported by data from the Office for National Statistics, which showed unemployment fell from 6.5% to 6.4%, representing the lowest rate of unemployment since 2008.
Nevertheless, Sterling was unable to maintain positive momentum, slipping to month lows (Point C) as official figures showed inflation fell to 1.6% in July, leading the MPC to report a "heightened uncertainty" regarding the lack of slack in the economy. Data showed British workers earned less between April and June than they did in the same period last year, deepening the squeeze on the cost of living and causing Sterling to slide over 1% against the euro, as forecasts for an interest rate hike was pushed into 2015.Q2.
Although the BOE minutes provided some support for Sterling towards the end of August, revealing that five-and-a-half years after the BOE cut interest rates to a record low of 0.5%, the unanimous agreement from the MPC to hold interest rates at 0.5% was finally broken. Both Ian McCafferty and Martin Weale, seeing enough improvement in economic circumstance, voted for a 0.25% interest rate increase. Sterling gains were muted though as commentators predicted that Ian McCafferty and Martin Weale may not have voted to hike rates had they seen the drop in inflation before the MPC meeting.
Outlook

Of significant concern to Sterling in the short-term is the growing discontent with Mark Carney's leadership. Questions grow surrounding the 'guidance' provided by Mark Carney, with some claiming the BOE "didn't have a clue what was going on out there". Elsewhere, reports that Mark Carney and George Osborne have a 'pact' to delay interest rate hikes until after the next general election called into question Mark Carneys credibility, despite the speedy rebuttal of these claims.
Whilst the pound was buoyed by two members of the MPC voting for an interest rate increase, the remaining seven members of the MPC agreed that there should be firmer evidence of wage growth before any rate hikes.
With the Bank of England recently halving wage growth forecasts from 2.5% to 1.25% this looks unlikely to take place in the short term. Combined with a deceleration in UK economic data, it is no surprise that a Bloomberg poll of economists forecast that UK interest rates are unlikely to rise before the middle of 2015. This would undoubtedly weigh on Sterling going forward as forecasts had previously been for a rate hike as early as November 2014, thus reducing the attractiveness of Sterling as an investment.
The euro remains surprisingly resilient, despite deteriorating economic data from Germany, which lead Bundesbank to dampen German economic outlook for the second half of 2014 after the economy contracted in Q2 2014. Geopolitical tensions continue to weigh on Germany with a report showing German exports to Russia fell by 15.5% in the first half of 2014, and with further losses expected in the second half of 2014 the euro looks set to remain under serious pressure.
Elsewhere, economic concerns in France continue to rise with France warning that "growth has broken down in the country and the wider eurozone", whilst pushing the ECB to intervene to weaken the euro to boost economic competitiveness.
Of further concern to the euro are reports from Noble Prize winning economists who claim, "Eurozone policy errors are pushing the region towards depression", suggesting a fresh round of debt crisis seen in recent years a very real possibility.
Ben Scott
Foreign Exchange Ltd
www.fcexchange.co.uk